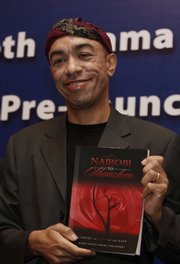 Guangzhou, China — President Barack Obama's half brother has broken his media silence to discuss his new novel — the semi-autobiographical story of an abusive parent patterned on their late father, the mostly absent figure Obama wrote about in his own memoir.
In his first interview, Mark Ndesandjo told The Associated Press that he wrote "Nairobi to Shenzhen" in part to raise awareness of domestic violence.
"My father beat my mother and my father beat me, and you don't do that," said Ndesandjo, whose mother, Ruth Nidesand, was Barack Obama Sr.'s third wife. "It's something which I think affected me for a long time, and it's something that I've just recently come to terms with."
Like his novel's main character, Ndesandjo had an American mother who is Jewish and who divorced his Kenyan father. The novel, which goes on sale today by the self-publishing company Aventine Press, is one of several books in the works by relatives of the president.
Obama's family
President Obama's parents separated two years after he was born in Hawaii in 1961. The senior Obama, a Kenyan exchange student, divorced the president's mother, Stanley Ann Dunham, in 1964 and had at least six other children in his native Kenya.
For the past seven years, Ndesandjo has been living in the booming southern Chinese city of Shenzhen, near Hong Kong, and has refused all interview requests until now.
Ndesandjo, who said he attended Obama's inauguration as a family guest, declined to discuss his earliest memories of the president or describe their relationship over the years. However, he said he plans to meet his brother in Beijing when the president makes his first visit to China on Nov. 15-18.
"My plan is to introduce my wife to him. She is his biggest fan," he said.
Shortly after divorcing the president's mother, Obama Sr. met Nidesand while studying as a graduate student at Harvard University. Nidesand returned with Obama Sr. to his native Kenya in 1965, where Mark and his brother David were born and grew up. David later died in a motorcycle accident.
In Kenya, Obama Sr. also had four children with his first wife, Kezia, some of them while he was still married to Nidesand. Nidesand and Obama Sr. eventually divorced amid allegations of domestic abuse. Nidesand returned to the United States and later married a man whose surname Mark Ndesandjo took.
Obama Sr. died in an automobile accident in 1982 at age 46.
President Obama saw his father only once after his parents' divorce, when he was 10 years old. In a best-selling memoir, "Dreams from My Father," Obama wrote about his fatherless upbringing and search for identity.
Obama, in his book, also quotes Ndesandjo criticizing their father, saying, "I knew that he was a drunk and showed no concern for his wife and children. That was enough."
About the author
Ndesandjo, who is an American citizen, spent most of his childhood in Kenya before moving to the U.S. to go to college and work in telecommunications and marketing. He has a bachelor's degree from Brown University in physics and a master's degree in the same subject from Stanford University. He earned an MBA from Emory University in Atlanta, he said.
Intensely private, Ndesandjo declined to answer several questions about himself. He even refused to give his age, saying only that "I'm younger than Barack."
Ndesandjo moved to China after the Sept. 11, 2001, terrorist attacks when his job was cut in the rocky U.S. economy. He taught English, immersed himself in the study of Chinese culture and volunteered as a piano teacher at an orphanage.
He now speaks Mandarin and said he earns a living as a consultant in strategic marketing, though he would not elaborate on his business.
Closely patterned on Ndesandjo's life, the novel depicts David, an American who leaves the U.S. corporate world after the 9/11 attacks to create a new life in China. He falls in love with a Chinese dance instructor and develops a bond with an orphan who is a gifted pianist battling a serious illness.
'I could hear thuds'
In the book, David also writes letters to his American mother asking for details about her failed marriage to his late abusive Kenyan father.
In one passage, Ndesandjo writes, "David easily remembered the hulking man whose breath reeked of cheap Pilsner beer who had often beaten his mother. He had long searched for good memories of his father but had found none."
Ndesandjo said such passages were drawn from his own experience.
"I remember situations when I was growing up, and there would be a light coming from our living room, and I could hear thuds," he said in the interview, tears welling in his eyes. "I could hear thuds and screams, and my father's voice and my mother shouting. I remember one night when she ran out into the street and she didn't know where to go."
Ndesandjo said his mother often called Obama Sr. "a brilliant man but a social failure."
Copyright 2017 The Associated Press. All rights reserved. This material may not be published, broadcast, rewritten or redistributed. We strive to uphold our values for every story published.