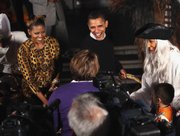 Washington — President Barack Obama and first lady Michelle Obama on Saturday doled out presidential M&Ms; and dried fruit mixes to more than 2,000 trick-or-treaters, marking their Halloween at a White House event partly aimed at honoring military families.
Dressed as superheroes, pirates, fairies and skeletons, the kids came in with their parents from Maryland, Virginia and Washington D.C., and lined up on the orange-lit White House driveway.
Standing outside the White House front door, the Obamas smiled, chatted and passed out cellophane goody bags that were also filled with a sweet dough butter cookie made by White House pastry chef Bill Yosses. Kids also received a National Park Foundation Ranger activity book.
Mrs. Obama wore furry cat ears and a leopard-patterned top. Obama said the kids looked adorable, as well as his wife, "a very nice looking Catwoman."
A big, stuffed, black spider dangled in a web of string from the top of the portico, and pumpkins had sprouted up around the columns.
Meanwhile, an odd cast of figures wandered around the North Lawn, including skeletons playing musical instruments, walking trees and "Star Wars" characters. The night's arrangements took a month or two to prepare, the White House said.
The loot handed out was just part of the treat for the visiting kids, who were chosen with help from the Education Department.
"He touched my hand," said a beaming Tiera Thomas, 11, of Washington, D.C., after she picked up her candy from President Obama.
The Obamas spent about a half hour passing out candy to trick-or-treaters, ages 6 to 14.
Then they headed inside to the East Room, where the first couple attended a reception for military families and for the moms and dads who work at the White House, along with their kids.
Obama thanked the military members and their families. "We are so grateful to you," he said. "Especially now, a lot of the times, you guys are separated. It's tough. The spouses who are at home are serving just as much as folks who are deployed. So we are just so thrilled that you guys could be here."
The president, dressed in casual clothes, was one of the few not in costume. Even Obama's press secretary, Robert Gibbs, was dressed as Darth Vader, the "Star Wars" villain.
It was also the first White House Halloween for the Obamas' daughters, 8-year-old Sasha and 11-year-old Malia.
But the White House would not say what Sasha and Malia were wearing, even though hundreds of other children their ages were in costume in full view of the media. The White House referred back to the first lady's comment to Jay Leno, that finding out what Sasha and Malia were wearing would require "security clearance."
Copyright 2018 The Associated Press. All rights reserved. This material may not be published, broadcast, rewritten or redistributed. We strive to uphold our values for every story published.