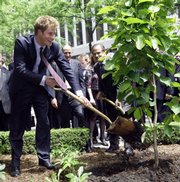 New York City — Prince Harry bowed his head in prayer at ground zero Friday "in admiration of the courage shown by the people of this great city" — as he wrote on a wreath he placed at the site of the Sept. 11 terror attack.
The 24-year-old prince — famed for his youthful, at times embarrassing, escapades — is on his first official trip to the United States.
Clearly, Harry had a different agenda as he started his two-day New York visit.
Dressed somberly in a blue suit, red-and-blue striped tie and black toe-cap shoes, he arrived at the World Trade Center just after noon.
Harry was greeted by New York Gov. David Paterson and Christopher Ward, executive director of the Port Authority of New York and New Jersey, which owns the site. The prince then spent about 15 minutes quietly speaking to a half-dozen relatives of 9/11 victims.
Among them was Chip Callori, whose brother, Joseph Amatuccio, was killed on Sept. 11, 2001. "It's a very kind gesture on his part — for him to realize that this is a sad but important part of our history," said Callori.
On a chain-link fence overlooking the Sept. 11 memorial under construction, Harry attached a wreath of peonies and white and yellow roses. Standing alone, he bowed his head in silence for a few minutes.
A handwritten note on the wreath read: "In respectful memory of those who lost their lives on Sept. 11, 2001, and in admiration of the courage shown by the people of this great city on that day." It was signed, "Harry."
Early Friday afternoon, Harry formally named the British Memorial Garden in Hanover Square downtown to honor the 67 British victims of the terrorist attack. On its wrought-iron fence, 67 finials are to be painted gold in honor of the British victims. Harry helped plant a so-called "Elizabeth" magnolia tree as part of a New York program to plant 1 million trees in the city.
His father, Prince Charles, and stepmother, Camilla, dedicated the center stone of the garden in 2005 during their New York visit.
Later in the afternoon, Harry visited Manhattan's Veterans Affairs Medical Center, where he was greeted with loud applause and toured a clinic that treats veterans with post-traumatic stress disorder and its prosthetics facilities.
Copyright 2018 The Associated Press. All rights reserved. This material may not be published, broadcast, rewritten or redistributed. We strive to uphold our values for every story published.