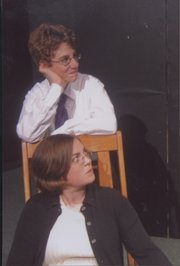 Darci "Jinx" Rodecap has always been impressed by the types of shows she's been a part of at Free State High School.
During her three years at FSHS, Rodecap has had roles in:
• "Gunplay," in a scene that involved sexual innuendoes involving guns.
• "Urinetown," a Broadway hit that involves plenty of urine humor.
• "Dark of the Moon," a dark play that includes a burned baby.
She's not sure why she's been able to do so many edgy productions during her three years at Free State.
"KU might help," she says. "Having a college, definitely. I don't know if (Lawrence's) hippie reputation has anything to do with it, either. I definitely feel Lawrence gives you more freedoms than anywhere else."
Rodecap, who graduated Sunday from Free State, is May's ArtStar. The award is sponsored by The World Company and Jayhawk Dental.
She's at home when she's on stage. In addition to the plays already mentioned, her biggest role yet came this spring, when she was Oliver in the female version of "The Odd Couple."
It's a long way from her first role in "Get Smart," produced in seventh grade.
"My role was completely insignificant," she says. "I wheeled a table onto stage and made surprised faces. I did have a name, but they never actually said it in the play. It was just in the script."
In "The Odd Couple," Free State drama teacher Nancee Beilgard says, Rodecap found her stride.
"She has a really powerful presence," Beilgard says, "and she fit that character really well, which I thought was nice."
Rodecap says she's found a home among the theater crowd at Free State.
"It's just really fun," she says. "I think everyone will tell you it's fun to be different people and just experiment with the different plots and everything. But I really like the backstage stuff, too — just the people who are involved and are just goofing around."
As much as she loves the theater, it was another one of Rodecap's passions — writing short stories — that brought on her nickname, Jinx.
"I was just watching a cartoon on TV and thought the character's name was pretty cool, so I started using it as a pen name, actually. I was in a writers' club," she says of her ninth-grade experience. "And I started using it in my classes, telling my teachers to call me it, and they did. ... And it just kind of caught on from there, and I've been using it for a while. But I kind of prefer either name. It doesn't really matter to me if people call me Darci or Jinx."
In addition to her writing and theater, Rodecap draws and paints pastels. Her 2-D art is what helped to earn her a scholarship to Coe College, a small liberal-arts school in Cedar Rapids, Iowa, where she'll start as a freshman this fall.
She's planning on majoring in visual art and psychology. But the college has open auditions for all of its theatrical productions, so it'll be hard to keep her off the stage.
Beilgard is certain she'll succeed if she tries.
"I think Jinx is one of the most reliable kids I've ever had," Beilgard says. "Really dedicated. Really hard-working. Really good at getting her lines down. ... Very talented.
"She's just one of those students you love to see when she shows up for auditions. It's wonderful to have someone like that."
Copyright 2018 The Lawrence Journal-World. All rights reserved. This material may not be published, broadcast, rewritten or redistributed. We strive to uphold our values for every story published.