Photo Gallery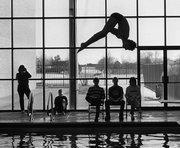 Behind the Lens - Silhouettes
This selection of photographs demonstrates various examples of silhouettes and descriptions of how they were created.
One of the great things about understanding visual devices in photography is finding ways to combine them to make creative images. I'll touch briefly on silhouettes and then using a past Journal-World photograph, explain how I combined that and other devices to create a more interesting and complex photograph.
A silhouette is basically a dark form or outline of a subject shown against a lighter background. Very little definition is seen on the subject. The background light might be natural, or it might be created in a studio. A camera on auto exposure will tend to create a silhouette if a subject is photographed in front of a big window or against a sunset. You can also purposely underexpose a subject to create a silhouette. The important thing in creating a successful silhouette is to ensure that the subject's outline is distinct and recognizable against the lighter background. If a subject's form overlaps another silhouetted or dark area, the effect can be lost and the subject becomes indistinguishable.
While covering a horse show at the Douglas County 4-H Fairgrounds, I recognized that by positioning myself inside the dark arena I could create silhouettes of young riders and their distinct cowboy hats against the bright sky outside. I positioned myself so I could frame one stationary rider in the foreground as my main subject. Then I noticed a rider in a red shirt outside the arena in full light. Recomposing my shot to include the silhouetted cowboy at center and the rider outside at right, I had introduced two more visual devices — adding color to a monochromatic scene and having a dominant foreground with a contributing background. Next came the wonderful magic of synchronicity. Another silhouetted rider rode into the scene. As I was already framed on the subjects at center and right, I waited until the moment when the new rider reached the left side of my frame and then captured the photograph. This is another visual device known as the "decisive moment," and is often associated with French photographer Henry Cartier-Bresson. Over the years I've realized that this kind of coincidence of events happens when I'm prepared, attentive to the moment, and mindful of all the visual devices available to me.
If you have photographs that incorporate some of the visual techniques I've written about and you would like to share them with our online audience, send them to myoder@ ljworld.com.
Copyright 2018 The Lawrence Journal-World. All rights reserved. This material may not be published, broadcast, rewritten or redistributed. We strive to uphold our values for every story published.