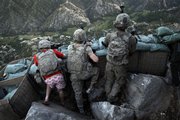 Washington — President Barack Obama fired the top U.S. general in Afghanistan on Monday, replacing him with a former special forces commander in a quest for a more agile, unconventional ap-proach in a war that has gone quickly downhill.
With the Taliban resurgent, Obama's switch from Gen. David McKiernan to Lt. Gen. Stanley McChrystal suggests the new commander in chief wants major changes in addition to the additional troops he's ordering into Afghanistan to shore up the war effort.
McKiernan, on the job for less than a year, has repeatedly pressed for more forces. Although Obama has approved more than 21,000 additional troops this year, he has warned that the war will not be won by military means.
Defense Secretary Robert Gates echoed that view at a grim Pentagon news conference announcing the leadership overhaul. "As I have said many times before, very few of these problems can be solved by military means alone," he said. "And yet, from the military perspective, we can and must do better."
"It's time for new leadership and fresh eyes."
A new team of commanders will now be charged with applying Obama's revamped strategy for challenging an increasingly brutal and resourceful insurgency. The strategy, still a work in progress, relies on the kind of special forces and counterinsurgency tactics McChrystal knows well, as well as nonmilitary approaches to confronting the Taliban. It would hinge success in the seven-year-old war to political and other conditions across the border in Pakistan.
McKiernan, named to his post by President George W. Bush, had expected to serve into next year.
Gates said he asked for McKiernan's resignation "with the approval of the president." The chairman of the Joint Chiefs of Staff, Adm. Mike Mullen, and McKiernan's military boss, Gen. David Petraeus, both said they supported the switch.
The White House said the recommended change came from the Pentagon.
McChrystal is a former special forces chief credited with nabbing one of the most-wanted fugitives in Iraq.
By year's end, the United States will have more than 68,000 troops in the sprawling country — about double the total at the end of Bush's presidency but still far fewer than the 130,000 still in Iraq.
McKiernan and other U.S. commanders have said resources they need in Afghanistan are tied up in Iraq.
Although Obama had pledged to add forces in Afghanistan while shutting down the Iraq war, his new administration has sought firmer control over the pace and scope of any new deployments. Gates and Mullen have both warned Obama that a large influx of U.S. troops would be self-defeating.
When Gates was pressed to name anything McKiernan had failed to do, Gates demurred.
"Nothing went wrong, and there was nothing specific," he said.
Copyright 2018 The Associated Press. All rights reserved. This material may not be published, broadcast, rewritten or redistributed. We strive to uphold our values for every story published.