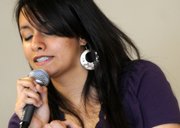 Salina — Most of the time, Cecilia Martinez is a reserved nursing student.
But put a microphone in front of her, and the Kansas Wesleyan University freshman is transformed into a poised and passionate singer.
Martinez, a native of Juarez, Mexico, grew up singing and playing violin in mariachi bands in junior high and high school in El Paso, Texas. When she arrived at Kansas Wesleyan last fall on a nursing scholarship, her intention was to put aside music for study.
Her resolve didn't last long.
"Now I'm more involved in music than ever," said Martinez, 19.
Martinez can blame her return to music on Ken Hakoda, vocal music professor and director of choirs at the university. Hakoda heard a CD of Martinez singing in her high school mariachi band and was impressed enough to ask her to audition for his concert choir.
"She's got a very big, belty voice," said Hakoda, also music director and conductor of the Salina Symphony. "She's become one of the best sopranos we have now."
Hakoda also worked on Spanish and English songs with Martinez for a performance at a Cinco de Mayo dinner in Abilene.
Hakoda plays guitar while Martinez sings "a fusion of Western folk/rock in Spanish, Mexican and American flavors," Hakoda said.
Martinez, Hakoda and percussionist Dean Kranzler have performed at Art a la Carte at Campbell Plaza in downtown Salina, joined by pianist Judy Weber and Wesleyan string students.
Kranzler said he became a fan of Martinez after hearing her sing. "It was a big voice to come out of such a little girl," he said. "But it's a captivating voice."
Although Martinez had no formal training as a singer, she said she grew up in a musical family in Juarez.
"My family on my mother's side weren't professional singers, but they liked to sing a lot," she said.
Martinez learned how to speak English while attending junior high and high school in El Paso, a literal walk across a bridge that connected the American city with Juarez.
While attending the El Paso school, she started singing in a mariachi band.
Martinez's high school was Methodist sponsored, which served as her introduction to Kansas Wesleyan, a Methodist college.
She applied for and was awarded a nursing scholarship at the university, and she has maintained an "A" average, even after becoming involved in music programs.
Copyright 2018 The Lawrence Journal-World. All rights reserved. This material may not be published, broadcast, rewritten or redistributed. We strive to uphold our values for every story published.