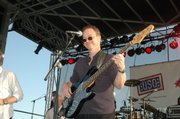 Fort Leavenworth — By now, actor and musician Gary Sinise says he's used to having an all-too familiar movie line thrown his way: "Lieutenant Dan, you've got no legs!"
"I say, 'Hey, I've never heard that before,'" Sinise, who played the Oscar-nominated "Forrest Gump" character in 1994, said jokingly in a press conference prior to Friday night's Lt. Dan Band United Service Organizations concert at Fort Leavenworth.
The concert, sponsored by TriWest Healthcare Alliance, was in conjunction with Military Spouse Appreciation Day, but this wasn't the Lt. Dan Band's first visit to Fort Leavenworth. The 12-member cover band, which has toured with the USO on more than 28 tours overseas and here in the states, made a stop at Ft. Leavenworth in 2007. Sinise said the base had a special place in his heart because of his brother-in-law, Lt. Col. Boyd Harris, who was posted at Fort Leavenworth and died of cancer there a number of years ago.
"I'm glad to be back at Leavenworth," he said.
At Friday's concert, the Lt. Dan Band, for which Sinise plays bass, played such diverse covers as Lynyrd Skynyrd's "Sweet Home Alabama" and "Teenage Wasteland" by The Who. During a rousing rendition of Labelle's "Lady Marmalade," members of the Lt. Dan Band showed their appreciation for military spouses by inviting a crowd of women from the audience to come up and dance with them onstage.
Sinise said the Lt. Dan Band has performed 30 to 40 shows on U.S. bases, and these shows were important to both service members and their families because of the message of support it sends them. "We can't forget that our troops are out there and they're deployed," he said in the press conference. "I think it's very important to keep them in our thoughts and prayers."
During the press conference, Sinise also took the time to talk about Operation Iraqi Children, a Kansas City-based foundation he co-founded with "Seabiscuit: An American Legend" author Laura Hillenbrand. The purpose of the foundation is to send school supplies to young students in Iraq. Sinise said the foundation has already sent upward of 300,000 supplies and other necessities, such as soccer balls and shoes, to Iraqi children. "It's all part of a mission to try to do something positive for somebody," Sinise said of the foundation and the Lt. Dan Band. "It's just a way to help."
Sinise has a long list of films to his credit and has won several awards, including a Golden Globe and a Screen Actor's Guild award. He was the executive producer on the film "Brothers At War" and plays a regular role on "CSI: NY." He says he's happy with his success but also wants to help others in whatever way he can. This is why he spends the 11 weeks he has off from "CSI: NY" every year touring with the USO. "I've been blessed with a great career and good fortune," Sinise said. "This is a way to give back. And it's fun."
Sinise said he might never live down the role he played in "Forrest Gump," and this was the reason he chose that particular name for his band — as a way to embrace what he was probably never going to be able to avoid in his lifetime. Though he said, as names go, it wasn't so bad.
"I could be called a lot worse things than 'Lieutenant Dan,'" he said.
The Lt. Dan Band will give another performance tonight at 7 p.m. at Fort Riley's Marshall Army Airfield.
Copyright 2018 The Lawrence Journal-World. All rights reserved. This material may not be published, broadcast, rewritten or redistributed. We strive to uphold our values for every story published.