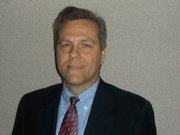 A Kansas University graduate has been appointed as the interim United States attorney in Kansas.
Lanny Welch, 47, was appointed by the U.S. Department of Justice to lead the office until President Barack Obama appoints a permanent replacement.
Welch, who has worked for the U.S. attorney's office since 1989, replaces acting U.S. attorney Marietta Parker, whose term ended. Parker will resume her duties as first assistant U.S. attorney.
The position has been vacant since October, when former U.S. Attorney Eric Melgren resigned to become a federal district judge in Kansas. The U.S. Senate will have to confirm Obama's new appointment for the seat.
Welch graduated from KU in 1984 and Washburn University law school in Topeka in 1987.
The federal prosecutor has served as criminal chief and deputy branch manager of the U.S. Attorney's Wichita office.
Before joining the U.S. attorney's office, he was an assistant county attorney in Barton County.
Welch will be responsible for operating three U.S. attorney's offices in the state, located in Topeka, Kansas City and Wichita. He'll oversee a staff of about 100 in the three offices.
Copyright 2018 The Lawrence Journal-World. All rights reserved. This material may not be published, broadcast, rewritten or redistributed. We strive to uphold our values for every story published.