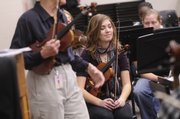 If music were a popularity contest, Lauren Crandon might have stopped playing the violin years ago.
"Actually, it was kind of hard to continue with orchestra, because band was always more popular," Crandon says. "But I don't know, I just liked the instrument. I didn't like the band instruments."
She stuck to it, and Crandon, a Free State High School senior, was recently honored as one of the top violinists in the state with a selection to the Kansas Music Educators Association's State Orchestra.
Now, she's been selected as this month's ArtStar, an award sponsored by The World Company and Jayhawk Dental.
Crandon started playing violin in sixth grade and liked it enough to scrap the piano lessons she'd been taking since she was 4.
"It just kind of fit," she says. "I just picked it up. It was just kind of easy for me."
She started taking lessons in junior high to hone her skills. She was selected for District Orchestra each year during high school and, this year, for state.
"It's a really cool experience," she says of performing with the State Orchestra in Wichita. "I think the biggest thing is the competition. You're surrounded by these other amazing musicians. That's what makes it cool — you get to learn from other peers."
And it helps that two of the pieces the group played — "Romeo and Juliet" by Tchaikovsky and "Jupiter" by Holst — are among her favorites.
"It was definitely a challenge," she says. "The music was difficult, and they don't give you much time to learn."
Through her years playing the violin, Crandon also has kept her chops up on the instrument's alter-ego — the fiddle. She's competed in the Kansas State Fiddling and Picking Championships and even recorded a bluegrass CD with friends.
"It was hard at first," she says of balancing the two styles. "I kind of got sloppy in orchestra. It's more free-for-all in fiddling, more playing by ear. In orchestra, it's really strict. I definitely had to separate the two and decide which one I was playing."
Lynn Basow, the orchestra director at Free State, says Crandon's skills have never suffered because of her multiple musical abilities. In fact, Basow says Crandon has benefited from her time in Free State choirs the past two years.
"She's very, very secure, and very musical," Basow says. "And she always has it just right after it's learned. It's very, very well played."
Crandon, who also is involved in the Spanish and German clubs at her high school, is busy with advanced-placement courses and other schoolwork. But she's always found time for music.
"Music is kind of relaxing for me," she says. "I have to work hard, but it's this different place. It's like my main creative outlet. It's just something I love to do. It can be stressful, but it also helps me with my other stresses."
Crandon is planning to major in something related to math or science in college, and she's looking at Kansas University, the University of Iowa, University of Michigan and Loyola College as possibilities.
She'd like to do music on the side as well. Basow is confident her student will find time for her violin.
"A student like Lauren has got a strong enough base of musical skills that if she didn't play her violin for 10 years and she decided, 'I want to play it again,' she'd pick it up and know exactly how to rebuild those skills. When you get to a high enough level, you're able to then restart."
Copyright 2018 The Lawrence Journal-World. All rights reserved. This material may not be published, broadcast, rewritten or redistributed. We strive to uphold our values for every story published.