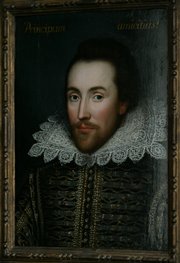 London — The Bard, or not the Bard? That is the question posed by Monday's unveiling of a centuries-old portrait of a dark-eyed, handsome man in Elizabethan finery.
Experts say it is the only portrait of William Shakespeare painted during his lifetime — in effect, the sole source of our knowledge of what the great man looked like.
But they can't be certain. In the shifting sands of Shakespeare scholarship, where even the authorship of the plays is sometimes disputed, nothing is written in stone.
"We're 90 percent sure that it's Shakespeare," said Paul Edmondson, director of learning at the Shakespeare Learning Trust, which plans to exhibit the portrait in Stratford-on-Avon. "You'll never be entirely certain. There will always be voices of dissent."
Incredibly, the portrait has been in private hands for several centuries but the owners — the Cobbe family — had no idea the man in the painting was responsible for so many enduring masterpieces.
All that changed three years ago, Edmondson said, when one of the Cobbes (he won't say which one) walked into the National Portrait Gallery in London's Trafalgar Square to see a traveling exhibit called "Searching for Shakespeare."
One of the first things he saw was a famous portrait of the Bard that usually hangs in the renowned Folger Shakespeare Library in Washington.
"His jaw dropped," said Edmondson. "He realized he had one at home. And the one he had at home turned out to be the original."
Edmondson said the portrait is far superior to the copies made after Shakespeare's death, including the famous 1623 engraving that graces the cover of the First Folio collection of Shakespeare's plays.
"This is Shakespeare alive, with fresh blood pumping through his veins, painted in his lifetime," Edmondson said with obvious pride. "The copies look dead by comparison."
He said scholars are convinced it is Shakespeare because so many copies of the painting were made, including the one at the Folger, and because the painting was handed down through the generations along with a portrait of the Earl of Southampton, Shakespeare's main patron.
At the Folger Library, art and special collections curator Erin Blake agreed that their Shakespeare portrait is based on the one unveiled Monday, which officials have dubbed "the Cobbe portrait."
Copyright 2018 The Associated Press. All rights reserved. This material may not be published, broadcast, rewritten or redistributed. We strive to uphold our values for every story published.