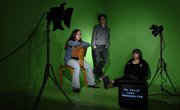 Victoria Cagan believes in the power of films to spark discussion.
She's counting on that to happen Sunday, when Lunafest, a festival of short films by and about women, comes to Liberty Hall, 644 Mass.
"We do it because these are good stories about women — the strengths of women," says Cagan, an event organizer. "This sets up a lot of good dialogue for women to talk to each other. They've all been screened and won this award. They're all brilliant films."
The 10-film fest is showing at more than 75 locations nationwide. The Lawrence screenings are at 3 p.m. and 7 p.m. Sunday.
The local event is organized by 100 Good Women, a local charitable and service organization. Tickets cost $10 for the public or $8 for students and seniors, and proceeds to go the GaDuGi SafeCenter, Breast Cancer Fund and a scholarship in the Kansas University department of theater and film.
The films tackle topics such as family tensions, women in wrestling, women's figures, what it means to be transgendered and young romance.
The local film "No Child Left Unrecruited," completed in 2007 by Lawrence High School students Alexia Welch and Sarah Ybarra, will be included in the Lawrence screenings. The film discusses military recruiting at high schools.
Cagan says she's looking forward to the event, the third annual in Lawrence.
"It gives women sort of something to motivate them, and a reason to talk about the spirit and strength of women," she says.
For more information on the films, visit www.lunafest.org.
Copyright 2018 The Lawrence Journal-World. All rights reserved. This material may not be published, broadcast, rewritten or redistributed. We strive to uphold our values for every story published.