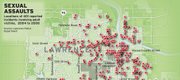 In the past five years, more than 450 adult sexual assaults have been reported in Lawrence. There's a rape in Lawrence every four days. Each case represents an instance where someone's life has been irrevocably changed. LJWorld.com, the Lawrence Journal-World and 6News are taking a deeper look at what those numbers really mean.
It is time to discuss rates of sexual assault in Lawrence and how widespread use of alcohol in the city may be contributing to the problem, several community leaders said this week.
"Raising awareness is going to be key," said Kathy Rose-Mockry, program director for the Emily Taylor Women's Resource Center at Kansas University. "There may be a misconception that rape doesn't affect our community."
But that's not what the numbers show. An analysis by the Journal-World and 6News of crime statistics found that a sexual assault — everything from rape to indecent liberties with a child — is reported about every four days in Lawrence.
"Looking at that map with all those dots on it was just frightening," City Commissioner Sue Hack said of a Journal-World map that showed 401 different locations in the city where a sexual assault had been reported in the last five years. "That really caused it to hit home how many of these incidents we have had."
Hack and others said it may be time for the community to have a formal discussion about ways to reduce the incidence of sexual assault in the community. But they also said that may require a broader discussion about alcohol use in the city.
Statistics vary, but some studies have found that 50 to 70 percent of sexual assault cases involve alcohol use, either by the perpetrator or the victim.
"That's a conversation that needs to happen all across the country," Rose-Mockry said. "By and large, alcohol is one of the most significant factors in all communities when it comes to sexual assault."
Lawrence is one of the more active alcohol markets in the state. A 2007 analysis by the Journal-World found that Lawrence had the highest per capita alcohol sales in the state, topping the next closest community by about 15 percent.
"We have a great atmosphere in Lawrence, and we don't want to change that," Hack said. "But I think it sometimes gives too much of a sense that it is a rolling party."
Some efforts to spark a community conversation about alcohol use already have begun. Jen Brinkerhoff, a director with Lawrence-based drug and alcohol counseling center DCCCA said The New Tradition Coalition of Lawrence started about six months ago. The group is working to educate parents and youth about the dangers of irresponsible drinking.
"In a college town it can be a very difficult message to get across," Brinkerhoff said. "You can say this isn't a healthy choice, but then youth can go out and see the tailgating that goes on, all the opportunities we have to celebrate. But we're not trying to say that all drinking is bad. The message here is responsibility."
New Traditions has about 20 active members. They include representatives from KU, the health care industry, law enforcement, the bar industry and parents. Brinkerhoff said the group might be able to expand its role to look at how to reduce sexual assault crimes as well.
Another possibility is the Community Health Improvement Project. Executive Director Janelle Martin said her organization would consider starting a new work group to study sexual assault prevention, if community leaders determined that need wasn't being met elsewhere.
"We could certainly discuss whether we can convene the right players in our community to tackle this issue," Martin said.
Historically, the city also has provided financial support for organizations that provide services for victims or that work to prevent sexual assault.
But it may be more difficult for the city to play that role in the future, Hack said. The state legislature is considering withholding the city's share of state liquor tax revenues in an effort to deal with state budget shortfalls. The city has traditionally used that money — $1.7 million per year — to help fund prevention services.
"We just need to step it up," Hack said of efforts in the community, "but here we are saying we don't have money to do that."
Copyright 2017 The Lawrence Journal-World. All rights reserved. This material may not be published, broadcast, rewritten or redistributed. We strive to uphold our values for every story published.