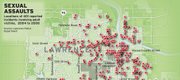 In the past five years, more than 450 adult sexual assaults have been reported in Lawrence. There's a rape in Lawrence every four days. Each case represents an instance where someone's life has been irrevocably changed. LJWorld.com, the Lawrence Journal-World and 6News are taking a deeper look at what those numbers really mean.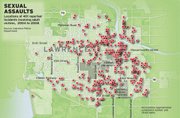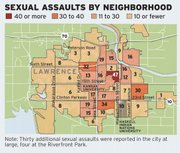 On average, a sexual assault is reported in Lawrence every four days.
Most assailants are not the knife-wielding stranger jumping out of alleyways or lurking behind bushes.
The offender is usually someone the victim knows, often quite intimately. The attack happens inside a house or in an apartment and, with the exception of physical force, no weapon is used.
To paint a clearer picture of who is attacked, where the attack happened and who did it, the Lawrence Journal-World and 6News spent two months gathering and analyzing data about sexual assaults in Douglas County.
Numbers never tell the whole story, but they can bridge the gap between the public's perception of sexual assault and the reality of it.
Much of the data is shaped by what Lawrence is: a college town with thousands of white females between the ages of 15 and 25 — the population that is the victim in the overwhelming majority of attacks.
From 2003 to 2007, 70 percent of rape survivors in Lawrence knew their attackers, according to the Kansas Bureau of Investigation. In at least 10 percent of the cases, the attacker was a stranger.
So-called date rapes represent the majority of the cases that come through GaDuGi SafeCenter. The Lawrence nonprofit provides a 24-hour sexual assault hot line and helps shepherd survivors through the process of healing.
With the combination of KU, Baker University and Haskell Indian Nations University, the amount of alcohol and drug use common on campus and the role those two substances play in sexual assaults, Douglas County is a nonsurprising setting for an offense, said GaDuGi executive director Sarah Jane Russell.
"Who we are suggests that we are going to see numbers, and that's just what it is," she said.
The Journal-World/6News analysis also found that a quarter of all sexual assaults in Lawrence between 2004 and 2008 — more than 100 assaults — occurred on KU's campus or within walking distance of the university.
Lawrence Police Sgt. Bill Cory said the number of assaults surrounding campus could simply be an issue of how many people live there. The neighborhood is saturated with multiplexes and homes remodeled into five or six apartments.
"When you have denser populations, you have large numbers of people in small areas that can make crime percentages go up," Cory said.
The college environment
Chief Assistant District Attorney Amy McGowan, who prosecutes sexual assault cases in Douglas County, said the mix of alcohol and new-found freedom makes for a dangerous combination.
"The college environment is an easy one for a sex offender to move around in," she said. "I am not judgmental of girls who want to go out and get drunk with their friends, but they can be so vulnerable."
Brittany Wolfe, a KU senior and a bartender downtown, sees the scenario played out every Tuesday night during the $1.75 schooner special.
"They can't stand up let alone make decisions for themselves," she said of the men and women who take advantage of the cheap beer. "And the friends kind of let it happen. People aren't aware enough of what their friends are doing."
In Lawrence, the majority of rapes happen between midnight and 4 a.m., and 40 percent occur on the weekend.
When KU sophomore Marina Olson and her friends go out, they worry about a stranger slipping a "roofie" — a sedative — in their drink. But she acknowledges the reality that she is far more likely to be assaulted by someone she knows.
Olson and Wolfe were among the 30 or so female students at KU professor Charlene Muehlenhard's Women and Violence class, which meets on Thursdays.
The group rattled off a series of precautions they take to keep safe from stranger rapes: being on a cell phone when walking at night by themselves, keeping their car keys pushed through their fist as they make their way through dark parking lots, and the automatic uptick in awareness when they walk past an empty park.
"You're brought up to fear the dark alley. The media don't paint rapists as boyfriends or dating partners or friends of friends," KU junior Michelle MacBain said. Before taking Muehlenhard's class, MacBain said, she never questioned the situations she put herself in throughout her dating life.
A study done at KU several years ago found that women were more frightened of stranger rape than of acquaintance rape, Muehlenhard said. The women were also more likely to modify their behavior to prevent such rapes, even though they knew acquaintance rapes were more common.
The reason for the gap, Muehlenhard said, was that women believed "their friends wouldn't do that."
On some level, stranger rapes can be easier for people to accept than acquaintance rapes, Russell, of GaDuGi, said.
"We can make sure we have extra locks, we can make sure we have good lighting ... those kinds of things give us a sense that we have control in keeping ourselves safe," Russell said.
Captain Schuyler Bailey of the KU Public Safety Office said the majority of sexual assault reports at KU take place in social settings where people let their guards down.
"Historically, we teach our children to be afraid of strangers. We trust the people around us," Bailey said.
It's especially important to pay attention to your instincts in those instances.
"When you don't feel comfortable in a social setting, you leave," he said.
The unknown
While much of the data in Lawrence points to victims as young, white women in date-rape type scenarios, that doesn't exclude the rest of the population from the crime. In the past five years, sexual assaults have been reported in nearly every segment of our community and in all sections of town.
Some have occurred in parking lots, garages, streets and alleys. And others have been the much feared rape by a stranger. The victims range in age from under 10 to over 50, and are both male and female.
"The unknown is what causes people to be uneasy," Russell said. "I can't give you 'this is where it always happens, this it where it will never happen.' It just happens."
Copyright 2018 The Lawrence Journal-World. All rights reserved. This material may not be published, broadcast, rewritten or redistributed. We strive to uphold our values for every story published.