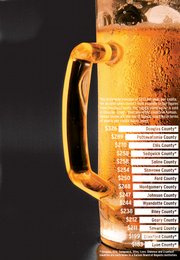 Who sells the most alcohol?
Matt Hine is doing his part. The muffled sounds of ESPN on the flat screen, bar room TV compete with the thump-thump-thump of a radio in the back room. Blue neon from a Miller Lite sign bounces off the darkened front window of Johnny's Tavern. And Hine - with a John Deere T-shirt that shows the tip of a tattoo on his forearm - sits at the middle of the bar. Never far from Hine's hand is the mega mug filled with a concoction of draft beer and tomato juice.
It's 2:30 in the afternoon, on a Wednesday.
Yeah, in Lawrence the booze flows all day, every day. In fact, a recent analysis of liquor tax numbers from the Kansas Department of Revenue shows that Lawrence is the best in the state when it comes comes to turning on the tap or tipping the bottle.
State figures showed that Douglas County liquor sales amounted to $326 for every man, woman and child in the county. That's more than $100 greater than the statewide average of $213 per person, and is nearly $40 more than any other community in the state.
None of that surprised Hine, and with a few sips from his half-empty mug, he even had an explanation for why Lawrence also far outpaces other university communities when it comes to buying a bottle.
"Lawrence is still just like an old hippy town," said Hine, who operates a local fencing company. "I think that has a lot to do with it. Everything is just more laid back here. People don't care as much. Everybody is just looking to have a good time."
The numbers
Here's what the Journal-World did to come up with a ranking of per capita alcohol sales. The state charges an 8 percent "liquor enforcement tax" on all sales from liquor stores and also on wholesale purchases that bars and restaurants make from liquor stores or liquor distributors.
The Kansas Department of Revenue publishes the tax collections for each county. The Journal-World divided the county liquor tax collections by the most recent Census Bureau population estimates for each county.
The results were not everything you might expect. Yes, Douglas County - home to the state's largest university - topped the list. Also, Ellis County - home to Fort Hays State University - was third. But in between the two college towns was not the likely suspect of Riley County - home to Kansas State University. Instead, it was Pottawatomie County, just east of Manhattan. Riley County actually was 11th on the list.
One possible explanation - according to a Pottawatomie liquor store employee who declined to be identified - is that a portion of eastern Manhattan is actually in Pottawatomie County. That part of town includes a couple of liquor stores near the city's Wal-Mart. So, significant numbers of Riley County residents may actually be buying their liquor in Pottawatomie, which pushes up the per capita sales of the county.
That's a good example of how the per capita numbers can be influenced by residents outside the county. Several students, liquor store owners and other interested observers said that almost certainly was a major factor in Douglas County's strong numbers. After all, lots of booze gets sold on game days.
But evidently, it is not all about drawing in outsiders to bars and restaurants. If that were the case, Johnson County - one of the state's top shopping destinations and home to a multitude of chain restaurants that encourage washing a plate of riblets down with a beer or fruity cocktail - didn't make the top five. It came in at No. 9, almost $80 less than Douglas County.
Money to spend
Several Kansas University students said recently that they weren't surprised by the county's ranking.
"After living in the dorms and being around some of the sororities, I didn't realize people could drink that much, but they can," said Heather Hansen, a KU senior.
But students also said they didn't think the amount of drinking going on among KU students was any different from other universities.
"I really don't think college students here drink more than other college students somewhere else," said Nicholas Ginther, a KU sophomore. "I think we're probably a party school to some degree, but I don't think it is any worse than Manhattan. I've been there to visit friends, and it doesn't seem any worse than Manhattan or Johnson County or even some of the towns out in western Kansas."
Dave Ruhlen, program coordinator for the outpatient program for Lawrence-based drug and alcohol counseling service DCCCA, said the numbers are something for Lawrence and other university towns to keep an eye on. He said university communities shouldn't just dismiss high drinking rates as kids being kids.
"There are consequences with this," Ruhlen said. "Yes, there is a natural maturing process where a lot of this activity stops or slows down. But some people don't ever mature out of it because they have already gone into alcoholism."
The numbers did show that university towns don't have to be heavy drinking towns. Crawford County and Lyon County - home to Pittsburg State and Emporia State universities - both checked in below the statewide per capita rates.
So, what's going on in Lawrence?
Jeff Jensen, who has owned Lawrence's Jensen Retail Liquor for 16 years, has a theory.
"Affluence maybe has something to do with it," Jensen said. "We have a large percentage of students from Johnson County and from the Chicago area. They may be slightly more affluent than some of the students in other university towns."
That affluence could mean a couple of different things, he said. It could mean that students just have the means to buy more booze, or it may mean that they're just buying more expensive brands of booze, which would push the tax collections higher.
Price in general also could be a factor in Douglas County's ranking. If alcohol prices in Douglas County are significantly higher than in other counties, that would help explain the community's high ranking. But a check of several liquor stores in other counties found a 12-pack of Bud Lite, for example, priced about the same as a 12-pack in Lawrence.
The price of individual drinks at bars shouldn't be much of a factor in the rankings because the 8 percent tax isn't charged on the retail price of drinks sold at bars, but rather is charged on the wholesale price that bars pay for their liquor. Wholesale liquor prices are regulated by the state, and they don't vary widely from one part of the state to another.
Back at Johnny's, Hine has his theory, too. Just look at liquor stores in Lawrence, he says. They're a beer lover's paradise with beers from all over the world. The same goes for the bars. There seems to be an almost endless row of beer taps to choose from at Lawrence drinking establishments, he said.
"You go out to Ellsworth, Kansas, or some place like that, and you'll see Bud, Bud Lite and Miller," Hine said.
So, maybe the answer to Lawrence's drinking question is just a variation of the "build it and they will come" philosophy.
Tap it and they will drink.
Copyright 2018 The Lawrence Journal-World. All rights reserved. This material may not be published, broadcast, rewritten or redistributed. We strive to uphold our values for every story published.