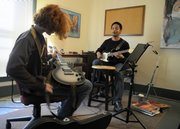 Brian Baggett grows nostalgic when looking back on his career as a musician and guitar instructor.
"Back in the day, they use to focus on one piece of music," says Baggett, a Lawrence resident and jazz guitar instructor for 18 years. "You talk to older guys who say they wore out a record learning every note on it. That's getting lost with the abundance of information."
The advent of YouTube has opened countless new channels for musical instruction. For casual musicians, this endless supply of instructional videos provides more than enough information to satisfy their musical aspirations.
"More people are exploring learning music than would otherwise," says Nancy Baym, Kansas University associate professor of communications. "I think it's a great thing for casual learners."
The availability of these videos provides individuals who lack access to private lessons with the next best thing. The videos are free; all you need is an Internet connection and the instrument of your choice.
For the more serious musicians, more may not always mean better.
"It seems to promote sort of skimming over," Baggett says. "I'd rather a student have a few specific things to practice than way too many."
Michael Hamm, another local guitar instructor, sees online instructional videos in a different light. He says he is generally pleased when students incorporate YouTube videos into their practice schedule.
"YouTube is very helpful," Hamm says. "The fact that someone has the motivation to learn outside of lessons is great."
Despite their differences, both veteran instructors agree on at least one point — some key elements of private lessons fail to make the digital transfer.
According to Hamm, the personal interaction and attention to detail a private lesson offers is impossible to re-create online.
"I think there will probably be an increase in people who learn from online sources," Hamm says. "But it's never going to end up becoming commonplace to the point where there isn't a need for private instruction."
Copyright 2017 The Lawrence Journal-World. All rights reserved. This material may not be published, broadcast, rewritten or redistributed. We strive to uphold our values for every story published.