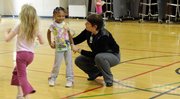 "Nearly everyone in my family was a teacher or wanted to be one, but I decided I wanted to do something different," says Nancy DeGarmo, 56, principal of New York School.
She resisted thoughts of becoming a teacher for more than 30 years until a free parking space and a chance encounter changed her mind.
DeGarmo graduated from Greensburg High School in 1970, left Kansas State University after her freshman year, married and moved to Sublette, where her husband, Tom, was a cowboy and rodeo bull rider. When their children were born, Tom took a job with Farmers' Cooperative, and they moved to Lawrence, Neb.
After her three sons went to school, she decided to get a paying job.
"I knew I could choose to flip burgers or get a lifelong career," she says. "As I was mulling this over, I found myself driving towards Hastings College one winter day in 1988. I saw the free space in front of the building and parked."
At the door, she met education professor Kathy Haverly, who smiled and said, "You want to go back to school, don't you?"
With encouragement from her husband and Haverly, DeGarmo enrolled in the college's 22-plus program tailored for older students and graduated with a bachelor's degree in 1991. She acknowledges that deep down she'd always wanted to be a teacher.
"It's who I am. I resisted all those years because I wanted to be different," she says, laughing.
After graduation, she taught at her sons' school in Lawrence (Nebraska) for six years.
She moved to a Hastings school in 1997 and realized she had the gifts to help more students and encourage other teachers.
After graduating with a master's degree in 1999, she became principal in Herington and principal at Lyndon K-8 school in 2001.
"Lyndon's school was small. I wore so many hats (including transportation and athletics support director) I found I wasn't doing anything really well," she recalls.
"The day the driver asked me what tires he should buy for the school bus was when I realized I was getting away from what really matters — helping kids learn."
She's been focusing on students' learning since coming to New York School in 2004. The school has 133 students. Sixty-seven percent of them receive free or reduced-price lunches, and many are considered homeless.
"We don't make poverty an excuse for students not learning or doing their best," she says. "Our staff is dedicated to doing everything possible to ensure students learn."
Their efforts are working. The school received eight standards of excellence awards this year.
"This means the students are doing better than expected according to national standards," DeGarmo explains. "They're not doing better than we expect. We have high expectations for all of them. Our focus isn't on how well we perform — it's on helping and encouraging all our students to become the best they can be."
Copyright 2018 The Lawrence Journal-World. All rights reserved. This material may not be published, broadcast, rewritten or redistributed. We strive to uphold our values for every story published.