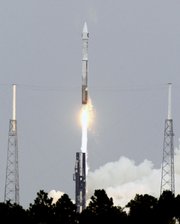 Cape Canaveral, Fla. — NASA launched its first moon shot in a decade Thursday, sending up a pair of unmanned science probes that will help determine where astronauts could land and set up camp in years to come.
The liftoff occurred just one month and two days shy of the 40th anniversary of the first lunar footprints. The mission is a first step in NASA's effort to return humans to the moon by 2020.
Scientists cheered as the Atlas V rocket carrying the two spacecraft blasted off in late afternoon, ducking through clouds and providing an exhilarating start to the $583 million mission.
The two spacecraft should reach the moon in four to five days — or by early next week. One will enter into an orbit around the moon for a mapping mission. The other will swing past the moon and go into an elongated orbit around Earth that will put it on course to crash into a crater at the moon's south pole in October.
NASA expects the dramatic moon-impacting part of the mission to be "a smashing success." It's a quest to determine whether frozen water is buried in one of the permanently shadowed craters. Water would be a tremendous resource for pioneering astronauts.
Copyright 2018 The Associated Press. All rights reserved. This material may not be published, broadcast, rewritten or redistributed. We strive to uphold our values for every story published.