Marge Rocker can't sit still any longer.
She's been tapping her fingers on the table through several songs with one hand, sipping a frosty beverage in the other.
But "Don't Be Cruel," the old Elvis standard, puts her over the top.
She summons her friend, Ruth Vervynck, from across the room. It's time to dance.
Between tables, they do a line dance until the last lyrics.


I don't want no other love,
Baby it's just you I'm thinking of.



It's a scene fit for a honky-tonk.
A few feet away is a ledge with a row of paper "BK" crowns for the kids.
This is a Burger King. The Home of the Whopper is now the home of a country joint.
That beverage Rocker was sipping? It was a strawberry shake, through a straw, in a cup adorned by "SpongeBob SquarePants" characters.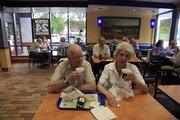 •••
They call it the BK Lounge. For the older folks who hang out here every Monday night, at the Burger King on Sixth St., it's country music, a little dancing, some new friends — both new and old.
"It's usually about the same people," says 76-year-old Vervynck, a former Douglas County treasurer, who comes regularly to meet others. "I don't miss unless I'm out of town."
She knows some of the people from dances she attends — those organized by the Douglas County Senior Center and others. And she's met some new ones by coming here.
"We have fun," she says. "That's a good thing. When you get to my age, you should get out and enjoy life. When your time comes, you're gonna go."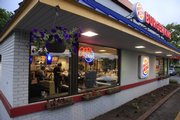 •••
The smell of burgers wafts into the "dance hall." Most of the tables are covered with small senior-sized coffees, which are offered at a discount.
It's been that way for 14 months, since this tradition began with a handful of couples. Now, it draws 30 to 45 people from 6:30 to 9 on Monday evenings.
Sure, it's an unlikely place for a music gathering. But for whatever reason, it just works.
The genesis of the BK Lounge actually was at the Burger King on 23rd Street. There was a band that played there for a while. But when Teya Lepley, a manager-in-training on 23rd, eventually moved to the Sixth Street location, she invited the band to move up there.
Now, the gathering helps drive business on Monday nights. But Lepley takes a personal interest in the patrons.
"It's a little social group," she says. "I love it. I think it's the greatest thing."
She grew up in small-town Kansas, and her dad was in a band. This feels like home.
"You won't find this at McDonald's or Taco Bell," she says. "Taco John's asked if they could steal away the band. I said, 'No!'"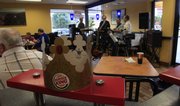 •••
Joe Patterson, 72, started coming here because his mother-in-law wanted to listen to the music. After she died, he and his wife, Shirley, kept coming.
"We enjoy the people," he says. "It's just friends."
Sometimes, they dance among the tables.
"I have three left feet," he says. "My wife gets me up once in a while."
This night, most of those in attendance are opting to sit and listen to the band as the late-evening sunlight starts to shine through the Burger King windows.
Bill Maxwell, who plays bass, and three of his buddies usually make up the band. Tonight, one is absent, making it a three-piece ensemble that's set up with music stands, guitars and amps in the corner of the dining area.
"We don't really have a name," Maxwell says during a smoke break. "Somebody said we were the BK Boys."
They don't get paid. They just like playing.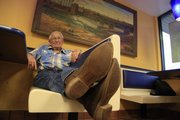 "It's actually real nice," Maxwell says. "The acoustics aren't bad. It's really easy to load and unload the equipment."
Rocker, who at 83 still works two days a week at Del Monte, makes this one of her regular dance stops during the week.
She confidently proclaims: "This table has the most fun of all of us."
"I just like the people," she says. "I guess I could sit at home and do nothing."
Copyright 2017 The Lawrence Journal-World. All rights reserved. This material may not be published, broadcast, rewritten or redistributed. We strive to uphold our values for every story published.