REVIEW **1/2
Rating: R, for violence and pervasive language
Length: 1 hour, 46 minutes
Theater: Southwind Twelve, 3433 Iowa
-->
-->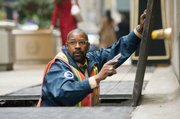 That 1970s action classic "The Taking of Pelham 123" earns an efficient, if not exactly riveting, treatment from Tony Scott, the lesser of the two hyper-editing Scott brothers. It stars Tony's go-to actor, Denzel Washington. But the film is built around and wholly dependent on John Travolta chewing a microphone and chowing down on what little scenery there is underground as the tattooed, foul-mouthed mastermind of a New York subway car hijacking.
"This is the man who's going to rock this city!" he crows into the microphone through a fierce Fu Manchu mustache.
Travolta is "Ryder," the guy who takes control of Pelham 123. Washington is Garber, the dispatcher on the other end of that microphone, the "man with a past" in the control center forced to deal with the killers who take over a car and its 19 passengers.
Ryder is the prototypical modern movie "madman" — absurdly chatty, philosophical, more a talk-radio guy than a gangster. He couches everything in market terms, and even though they don't share many scenes, Washington is as rapt as everybody else at Ryder's patter.
"What is the going rate for a New York City hostage today?"
Scott juices their exchanges with a cacophony of train sound effects and a whiplash blur of edits. Ryder dismisses the police hostage negotiator (John Turturro, cool, collected) and insults the lame-duck mayor (James Gandolfini) as he counts down the minutes toward the deadline for $10,000,000 to be delivered to him.
Brian Helgeland's new script based on the John Godey "Pelham" novel sets up moral dilemmas that don't reach any sort of intellectually sensible conclusion. It's a glib piece of work, suggesting Scott's "True Romance," where people are dying but there's still time for jokes, wisecracks and little moments ripped from "An aphorism a day" calendar.
"A good Catholic knows that nobody is innocent!" "We all owe God a death!"
It's a movie that gives you a little to ponder and one that's more easily quoted than felt. We barely get to know the train passengers — the kid (Alex Kaluzhsky) whose wi-fi connection allows his girlfriend to televise events from his laptop inside the train, the mom with the young son, the guy with the shy bladder. Empathy is in short supply, even when people die. At least Garber's wife (Aunjanue Ellis) is able to turn it on in her big phone conversation scene.
That's one of the problems with this era of the cell-phone thriller. They're great for filling in plot, for ratcheting up tension, for placing actors who might be available for filming at different times in the same scene. But they can make for an emotionally sterile movie experience.
Travolta sells this stuff, and how. He always seems to relish his villainous turns and this is up there with his "Broken Arrow"-"Swordfish"-"Face/Off" turns — over the top and loving it.
Copyright 2018 The Lawrence Journal-World. All rights reserved. This material may not be published, broadcast, rewritten or redistributed. We strive to uphold our values for every story published.