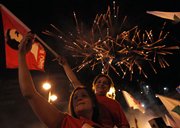 Beirut — A pro-Western coalition won Lebanon's parliamentary elections Monday, dealing a major setback to the Iranian-backed Hezbollah and giving a boost to Barack Obama's Middle East peace policy.
Coming just days after the American president reached out to the Muslim world, the vote undercuts the most militant force in Lebanese politics.
It was the first major political test in the Middle East since Obama's groundbreaking address last week, in which he challenged the Islamic world to confront violent extremism and urged Israel and the Arabs to find common ground to establish peace.
Official results, announced Monday, may also set the stage for renewed political deadlock in this sharply polarized, volatile Arab nation. The results mirrored the breakdown of the outgoing parliament, meaning many of the questions that have dogged the fractious nation, such as what to do with Hezbollah's many weapons, remain.
Still, the outcome was cause for relief for many in the West and eased the apprehension of some of America's moderate Arab allies.
"Once more, the people of Lebanon have demonstrated to the world their courage and the strength of their commitment to democracy," Obama said in a congratulatory statement that made no reference to Hezbollah.
Congratulations also came from the U.N. and Arab League chiefs and the leaders of France, Egypt and Jordan. Israel, which warned ahead of the elections that a Hezbollah victory could further destabilize the Middle East, appeared relieved.
"There was an election in Lebanon, and the moderate camp won. This is definitely a positive sign," Defense Minister Ehud Barak said. "But the real proof will be … in the government's ability to enforce order and prevent Hezbollah from continuing military actions in southern Lebanon and throughout Lebanon."
Hezbollah, which controls a militia more powerful than Lebanon's national army, has long opposed America's Mideast policies. A win for the Shiite group, which the U.S. considers a terrorist organization, would have boosted the influence of its backers Iran and Syria and risked pushing the country into international isolation and possibly more conflict with archenemy Israel.
Sunday's vote cleared the way for a visit to Lebanon and Syria by Mideast envoy George Mitchell. A senior Obama administration official said Monday that Mitchell would visit Beirut and Damascus after meetings with Israeli and Palestinian Authority leaders expected today and Wednesday. The official spoke on condition of anonymity because Mitch-ell's exact itinerary has not been finalized.
Copyright 2018 The Associated Press. All rights reserved. This material may not be published, broadcast, rewritten or redistributed. We strive to uphold our values for every story published.