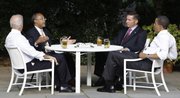 Washington — With mugs of beer and calming words, President Barack Obama and the professor and policeman engulfed in a national uproar over race pledged Thursday to move on and try to pull the country with them.
There was no acrimony — nor apology — from any of the three: black Harvard professor Henry Louis Gates Jr., white Cambridge, Mass., police Sgt. James Crowley, who had arrested him for disorderly conduct, and Obama, who declared on national TV that the police had "acted stupidly." But neither Gates nor Crowley backtracked either, agreeing they still had differences.
Said Obama after the highly anticipated, 40-minute chat on the Rose Garden patio: "I have always believed that what brings us together is stronger than what pulls us apart."
"I am confident that has happened here tonight, and I am hopeful that all of us are able to draw this positive lesson from this episode," said the nation's first black president.
Under the canopy of a magnolia tree in the early evening, Obama joined the other players in a story that had knocked the White House off stride. Vice President Joe Biden joined them for drinks and snacks.
The policeman and the professor both expressed respect for each other after their dispute that unleashed a furor over racial profiling in America.
It all began two weeks ago when Crowley was called to investigate a potential burglary at Gates' house and ended up arresting the protesting professor for disorderly conduct. The matter mushroomed when Obama made his comment in a prime-time news conference. The president later expressed regret. In Cambridge, the charge was dropped.
"We agreed to move forward," Crowley said Thursday night when asked if anything was solved in the meeting. "I think what you had today was two gentlemen agreeing to disagree on a particular issue. I don't think that we spent too much time dwelling on the past. We spent a lot of time discussing the future."
For his part, Gates said he and Crowley had been caught up as characters in a larger narrative about race over which they had no control.
"It is incumbent upon Sgt. Crowley and me to utilize the great opportunity that fate has given us," Gates said in a statement. He said their task must be to foster sympathy among Americans about "the daily perils of policing on the one hand, and for the genuine fears of racial profiling on the other hand."
Although Obama had invited Crowley and Gates as part of what he called a "teachable moment," it wasn't quite reachable for the masses.
The coverage allowed the public to get the we've-come-together photos and video footage that the White House wanted, while keeping the discussion private among the men.
They were seen chatting with each other, each with a mug of beer — Biden's was nonalcoholic.
The media were stationed far away, out of earshot, and ushered away quickly.
Crowley, 42, and Gates, 58, said they were planning to meet again, and Obama hopes he can now pivot back to health care and other issues with this distracting story behind him.
There's been a political cost for Obama. The two-week episode has stolen attention from his agenda and has drawn negative public reviews on how he handled the matter.
Copyright 2018 The Associated Press. All rights reserved. This material may not be published, broadcast, rewritten or redistributed. We strive to uphold our values for every story published.