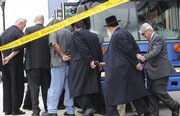 Newark, N.J. — Levy Izhak Rosenbaum of Brooklyn called himself a "matchmaker," but his business wasn't romance. Instead, authorities say, he brokered the sale of black-market kidneys, buying organs from vulnerable people from Israel for $10,000 and selling them to desperate patients in the U.S. for as much as $160,000.
The alleged decade-long scheme, exposed this week by an FBI sting, rocked the nation's transplant industry. If true, it would be the first documented case of organ trafficking in the U.S., transplant experts said Friday.
"There's certainly cross-national activity, but it hasn't touched the United States or we haven't known about it until now," said University of Pennsylvania medical ethicist Arthur Caplan, who is co-directing a U.N. task force on international organ trafficking.
Rosenbaum was arrested Thursday, 10 days after meeting in his basement with a government informant and an FBI agent posing as the informant's secretary. The agent claimed to be searching for a kidney for a sick uncle on dialysis who was on a transplant list at a Philadelphia hospital.
"I am what you call a matchmaker," Rosenbaum said in a secretly recorded conversation. "I bring a guy what I believe, he's suitable for your uncle." Asked how many organs he had brokered, he said: "Quite a lot," the most recent two weeks earlier.
As part of the scheme, the organ donors were brought from Israel to this country, where they underwent surgery to remove the kidneys, authorities said. Prosecutors did not identify which hospitals in the U.S. received the donors and their kidneys.
"The allegations about an organ trafficking ring in the United States are appalling," said John Davis, CEO of the National Kidney Foundation.
Israel Medical Association spokeswoman Orna Cohen said the organization had no reports there of Israelis selling organs. "If it's true, then it's shocking," she said.
Micky Rosenfeld, a spokesman for Israel's national police force, said Israeli police were not involved in the investigation, and he would not comment further.
Under 1984 federal law, it is illegal for anyone to knowingly buy or sell organs for transplant. The practice is illegal just about everywhere else in the world, too.
But demand for kidneys far outstrips the supply, with 4,540 people dying in the U.S. last year while waiting for a kidney, according to the United Network for Organ Sharing. As a result, there is a thriving black market for kidneys around the world.
Nancy Scheper-Hughes, an anthropology professor at the University of California at Berkeley and the author of an upcoming book on human organ trafficking, said that she has been tracking the Brooklyn-connected ring for 10 years and that her contacts in Israel have called Rosenbaum "the top man" in the United States.
Copyright 2018 The Associated Press. All rights reserved. This material may not be published, broadcast, rewritten or redistributed. We strive to uphold our values for every story published.