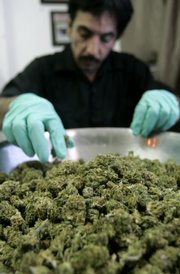 San Francisco — A drug deal plays out, California-style: A conservatively dressed courier drives a company-leased Smart Car to an apartment on a weekday afternoon. Erick Alvaro hands over a white paper bag to his 58-year-old customer, who inspects the bag to ensure everything he ordered over the phone is there.
An eighth-ounce of organic marijuana buds for treating his seasonal allergies? Check. An eighth of a different pot strain for insomnia? Check. THC-infused lozenges and tea bags? Check and check, with a free herb-laced cookie thrown in as a thank-you gift.
It's a $102 credit card transaction carried out with the practiced efficiency of a home-delivered pizza — and with just about as much legal scrutiny.
More and more, having premium pot delivered to your door in California is not a crime. It is a legitimate business.
Marijuana has transformed California. Since the state became the first to legalize the drug for medicinal use, the weed the federal government puts in the same category as heroin and cocaine has become a major economic force.
No longer relegated to the underground, pot in California these days props up local economies, mints millionaires and feeds a thriving industry of startups designed to grow, market and distribute the drug.
Based on the quantity of marijuana authorities seized last year, the crop was worth an estimated $17 billion or more, dwarfing any other sector of the state's agricultural economy.
Experts say most of that marijuana is still sold as a recreational drug on the black market. But more recently the plant has put down deep financial roots in highly visible, taxpaying businesses:
Stores that sell high-tech marijuana growing equipment. Pot clubs that pay rent and hire workers. Marijuana-themed magazines and food products. Chains of for-profit clinics with doctors who specialize in medical marijuana recommendations.
The plant's prominence does not come without costs, say some critics. Marijuana plantations in remote forests cause severe environmental damage. Indoor grow houses in some towns put rentals beyond the reach of students and young families. Rural counties with declining economies cannot attract new businesses because the available work force is caught up in the pot industry. Authorities link the drug to violent crime in otherwise quiet small towns.
"For those of us who are on the front lines, it's not about pot is bad in itself or drugs are bad," said Meredith Lintott, district attorney in Mendocino County, one of the country's top marijuana-producing regions.
"It's about the negative consequences on children. It's about the negative consequences on the environment."
Still, the sheer scale of the overall pot economy has some lawmakers pushing for broader legalization as a way to shore up the finances of a state that has teetered on the edge of bankruptcy. The state's top tax collector estimates that taxing pot like liquor could bring in more than $1.3 billion annually.
On Tuesday, Oakland will consider a measure to tax the city's four marijuana dispensaries, which the city auditor projects will ring up $17.5 million in sales in 2010. The city faces an $83 million budget shortfall, and expects the marijuana tax to raise $315,000.
Advocates point out that making pot legal would create millions if not billions of dollars more in indirect sales — the ingredients used to make edible pot products, advertising, tourism and smoking paraphernalia.
With a recent poll showing more than half of Californians supporting legalization, pot advocates believe they will prevail. And they say other states will follow.
Tim Blake is the proprietor of a 145-acre spiritual retreat center that holds an annual marijuana bud-growing contest in the heart of Northern California's pot-growing country.
Politicians, he says, are "going to see the economic benefits, they're going to see the health benefits and they're going to jump on the bandwagon."
Mom-and-pop growers
On a property flanked by vineyards, Mendocino County farmer Jim Hill grows marijuana for up to 20 patients, including himself and his wife. He believes passionately in marijuana's purported ability to treat the symptoms of diseases ranging from cancer to Alzheimer's; he says his wife suffers from a serotonin imbalance, and he uses the drug to treat digestive problems and intestinal cramping.
Hill's plants enjoy careful nurturing in a temperature-controlled greenhouse. On a recent spring day, his college-age son spread bat guano to fertilize two dozen 6-foot-tall plants.
Hill is 45 years old; he says he spent $10,000 to set up the garden. Patients receive their drugs free in exchange for helping with his crop.
"It's kind of like living on an apple orchard," Hill said. "You don't pay for an apple."
Though marijuana is cultivated throughout California, the most prized crops come from the forested mountains and hidden valleys of Mendocino, Humboldt and Trinity counties — the Emerald Triangle.
The economic impact of so much pot is difficult to gauge. Authorities say the largest grows are run by Mexican drug cartels that simply funnel money from forest-raised crops back into their own bank accounts.
Still, marijuana money from outdoor and indoor plots inevitably flows into local coffers. Marijuana increases residents' retail buying power by about $58 million countywide, according to a Mendocino County report. The county ranks 48th out of 58 counties in median income but, by counting pot proceeds, could jump as high as 18th.
Businesses benefit from mom-and-pop growers who cultivate pot to supplement their incomes and from marijuana plantation workers who descend on the Emerald Triangle from all over the country for the fall harvest. Pot "trimmers" can earn more than $40 per hour.
In Ukiah, the county's largest city, business owners say the extra cash is crucial. "I really don't think we would exist without it," says Nicole Martensen, 37, whose wine and garden shop is stocked with bottles from county vintners.
The skunk-like smell of marijuana hangs over the town of about 11,000 during the October harvest, when cash registers brim with $100 bills. Sometimes the wads of cash spent in Martensen's shop come dusted with pot.
But Ukiah banker Marty Lombardi says existing businesses cannot compete with pot industry wages for workers. Lombardi's bank does not make loans to anyone suspected of trying to fund a pot operation, but he said most growers do not need them.
"I don't think you or I have any sense for how much money is generated," he said.
Copyright 2018 The Associated Press. All rights reserved. This material may not be published, broadcast, rewritten or redistributed. We strive to uphold our values for every story published.