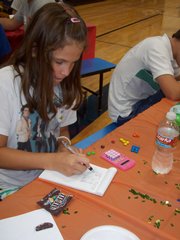 While Langston Hughes sixth-grader Domino Brewer might not have a lot of money to her name, she'd like to do a better job handling the cash she does have.
"I'm not exactly a good money manager," Brewer said. "I like to spend money on a lot of things."
That's exactly why she joined 10 other children at a Meritrust Credit Union youth financial camp Wednesday at West Junior High.
"If you can teach children at a younger age to manage their money, then it becomes a habit for them," said Chris Wolgamott, the credit union's community development liaison. "When they get into high school and move on to college, they already have those good financial goals they set for themselves."
The camp has taken place for five years in the Wichita area, but it's the first time the money managers have traveled to Lawrence. Students learned how to budget with candy, which ironically enough is what some kids say they spend their allowance on.
"I'll get gum and that kind of stuff with my allowance," said Corrinne Yoder-Mulkey, a sixth-grader at Eudora Middle School. "I don't really save any of it."
But the camp is helping the students make sense of their dollars.
"If you're buying candy, then you're going to waste it all on that and not the stuff that you need," said Sunset Hill fifth-grader Avin Lane. "Now I'm going to try and save it as much as I can."
Some kids already have some financial know-how.
"I think they actually know more than we think they do," Wolgamott said. "Then we can just enhance what they do know and make it a little bit stronger."
Now, the kids have money on their minds and are thinking of their financial future.
"My mom and dad said I'm not getting a car until I pay for it, so I'm saving for that when I get older," Brewer said. "When you get older, you need to know how to save money and how to spend it because you have a family."
Copyright 2018 The Lawrence Journal-World. All rights reserved. This material may not be published, broadcast, rewritten or redistributed. We strive to uphold our values for every story published.