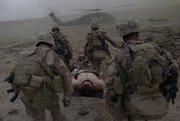 Nawa, Afghanistan — Roadside bombings and a gun attack killed seven U.S. soldiers in Afghanistan on Monday, providing a grim reminder of the insurgency's resilience even as Marines moved to consolidate gains in their operation against the Taliban in the southern province of Helmand.
Four members of a U.S. military team training Afghan security forces died after their convoy was struck by a bomb near the northern city of Kunduz, according to U.S. military officials. Northern Afghanistan has been relatively stable compared to other parts of the country, in part because much of the territory is under the control of anti-Taliban warlords. But violence has been increasing in recent months around Kunduz and other cities as Taliban fighters seek to exploit a thin presence of NATO forces in the area.
Two U.S. soldiers were killed in a bombing in the southern province of Zabul, the officials said. Another U.S. soldier died after a firefight with insurgents in eastern Afghanistan. The deaths made Monday the deadliest day for U.S. forces in Afghanistan in nearly a year.
Three other NATO soldiers — two Canadians and one Briton — also were killed in Zabul on Monday when their helicopter crashed. And in neighboring Kandahar province, a suicide bomber detonated a car filled with explosives outside the gates of the primary NATO base in southern Afghanistan, killing two Afghan soldiers and a civilian and wounding 16 others.
Despite the violence elsewhere, the parts of southern Afghanistan that are the focus of a massive Marine operation launched last week remained relatively quiet Monday. U.S. commanders believe many Taliban fighters have left areas of Helmand in which the Marines are operating because they were unprepared for the size of the mission, which involves about 4,000 U.S. troops.
"Coming in with overwhelming force really made a difference," said Lt. Col. William McCollough, the commander of the 1st Battalion of the 5th Marine Regiment. His unit is responsible for trying to secure the Nawa district of Helmand, a verdant farming community along the Helmand River that has been in Taliban hands for the past few years.
Prior to the arrival of the Marines, there were only about 40 British soldiers here. Now there are more than 750 Marines, and they are patrolling areas the British never visited.
"We've presented the Taliban with a larger and more lethal problem," McCollough said. "They're doing the sensible thing: They're trying to run away."
Copyright 2018 The Lawrence Journal-World. All rights reserved. This material may not be published, broadcast, rewritten or redistributed. We strive to uphold our values for every story published.