Photo Gallery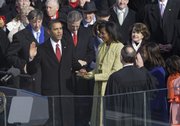 Inauguration Day in DC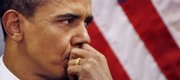 Barack Obama will become the 44th President of the United States on January 20, 2009 — the first African-American elected to the position. Many locals will make the trip to Washington, D.C., to watch the historic event. Others will watch from here in Kansas.
Presidential Memories
Purchase images from the historic 2008 election and inauguration.
Purchase commemorative copies of the Journal-World.
Washington — President-elect Barack Obama and President George W. Bush have arrived at the U.S. Capitol for Obama's inauguration as the nation's 44th president.
They traveled together in a motorcade from the White House, where Bush had hosted the Obamas and Bidens for coffee.
A crowd on both sides of the street watched the motorcade carrying the current president and his successor to the historic event.
The huge security presence was evident along the way, with a line of officers standing in front of the spectators.
Copyright 2018 The Associated Press. All rights reserved. This material may not be published, broadcast, rewritten or redistributed. We strive to uphold our values for every story published.