Related document

Journal-World Inauguration Day Commemorative Poster ( .PDF )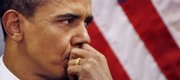 Barack Obama will become the 44th President of the United States on January 20, 2009 — the first African-American elected to the position. Many locals will make the trip to Washington, D.C., to watch the historic event. Others will watch from here in Kansas.
Presidential Memories
Purchase images from the historic 2008 election and inauguration.
Purchase commemorative copies of the Journal-World.
Washington — Michelle Obama challenged the audience at a teen- and tween-filled "Kids' Inaugural: We Are the Future" concert to serve their country.
She got a response from the audience on Monday night that surpassed even the appearance of teen star Miley Cyrus.
"You kids are the future of this great nation," Obama said to the crowd largely made up of military families and their charged-up children. "We need every American to serve their community, including our young people."
What can kids do? she wondered aloud: Volunteer in a homeless shelter, visit an elderly person or write letters to U.S. troops.
Cyrus, who performed for the first time her inspirational song, "The Climb," returned the compliment to the Obamas' daughters, well-known fans of Cyrus' Disney TV alter ego, Hannah Montana.
"You girls must be awfully proud of your dad — and so am I," Cyrus said, inviting her father, Billy Ray Cyrus, to join her for a performance on stage.
The Jonas Brothers got Obama — wearing a sparkly blue dress and mustard-yellow cardigan — on her feet dancing, and Malia and Sasha to come up on stage to jump around like the schoolgirls that they are.
Copyright 2018 The Lawrence Journal-World. All rights reserved. This material may not be published, broadcast, rewritten or redistributed. We strive to uphold our values for every story published.