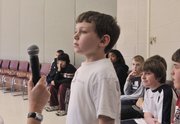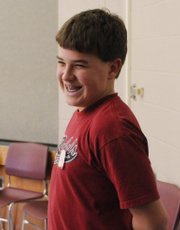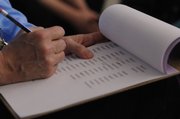 The word "winner" doesn't have enough vowels or double consonants to trip up sixth-grader Michael Sinks.
He does love to hear a judge pronounce it during a spelling bee, though — particularly at the end.
"At first, I didn't want to win because I didn't want to go on," says 12-year-old Michael, who won the Sunflower School spelling bee earlier this month. "But then I changed my mind."
Michael landed the victory after successfully spelling the word "audible."
"I play football. I'm the quarterback," he says. "So I know how to spell audible."
"Audible," coupled with the word "brilliance," sealed the deal for Michael in the 17-round victory. But his mother, Carrie, wasn't always so sure he'd win.
"He's been in this before," she says. "We had a little chat this morning. I said this would be a nice way to leave Sunflower."
Sunflower School is just one of the many schools in the state to participate in spelling bees directly following the holiday season.
"It's a valuable experience for the kids to participate in," fifth-grade teacher Robyn Vilcek says. "It's a really good opportunity."
Vilcek headed up the bee at Sunflower School, which featured 24 children from third through sixth grades.
"It builds self-confidence and gives them an opportunity to get in front of a crowd and showcase their skills," she says.
From here, Michael will go on to compete against students from about 30 other schools in the Douglas County spelling bee Feb. 7 at Southwest Junior High School — many of them from Lawrence Public Schools
"Southwest is always happy to have an academic competition here," says Trish Bransky, Southwest Junior High principal. "Getting students interested in academics is always a good thing."
The Douglas County spelling bee begins at 10 a.m., and Bransky says students and parents alike come out to watch the event.
"My friends said it's a lot harder," Michael says of the county spelling bee.
To practice up, Michael says he'll probably read a dictionary.
"I don't have too many dictionaries, though," he says.
Copyright 2018 The Lawrence Journal-World. All rights reserved. This material may not be published, broadcast, rewritten or redistributed. We strive to uphold our values for every story published.