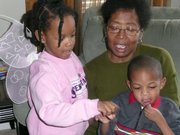 Detroit — Calm prevails in Paul and Adrian Leek's spacious contemporary home when snow cancels class at their kids' schools in Ypsilanti, Mich.
Traffic tie-ups no longer panic Dmitry and Carolina Harris, en route from work to get to their children at their Novi, Mich., home.
And when Lori Anderson's daughter, Lauren, has after-school rehearsals with the Mosaic Youth Theater of Detroit, there's no worry about how she'll get there from her home in Southfield, Mich.
The three families have a treasured weapon in the battle to balance work and family responsibilities: live-in grandmas.
"I know my mom is taking as good care of our children as I would, if not better," Adrian Leek says.
While the concept of live-in grandparents is certainly not new, it's receiving renewed attention because President-elect Barack Obama's mother-in-law, Marian Robinson, 71, plans to move into the White House, at least on a trial basis, to help with the Obama girls.
Growing trend
Census figures show that multigenerational households are on the rise, largely because of the economy. More than 3.6 million adults lived with adult children in 2007 — up 67 percent from 2000. Another census report shows that 42 percent of live-in grandparents are the primary caregivers for their grandchildren.
Ama Agyemang, coordinator of the Kinship Care Resource Center at Michigan State University, suspects the numbers are greater because of many informal arrangements.
"The value of extended family relationships has really been underestimated," Agyemang says. "Grandparents provide stability, family cohesiveness and solidarity. And I think we're seeing a shift from the nuclear family back to the extended family."
Robinson's move to the White House next week will give the Obama children, Malia, 10, and Sasha, 7, stability and their parents peace of mind. Robinson cared for the children during the long presidential campaign.
Senior citizens advocates are praising the upcoming move because they say Robinson typifies the vitality and the value of independent older Americans.
As many families will tell you, however, you don't have to have the demands of a president and first lady to call on Grandma.
Adrian Leek had a toddler and was a month away from delivering her second child when she called her mother, Justner Graham, to ask if she'd leave suburban Chicago to come live with her and her husband, Paul, in January 2005.
"I knew how tough it was with one; having two and someone you can trust with them is major," says Adrian Leek, 40, a hospitality sales representative for the Marriott in Ann Arbor, Mich.
Graham says she was concerned about leaving her other eight grandchildren.
"I was also a little anxious because I was leaving more grandchildren than I was coming to care for, but those grandchildren are all older," says Graham, 69, who was primarily a stay-at-home mom for her five children and helped care for other grandchildren.
Paul Leek, 39, acknowledges he was hesitant because of all the negative images about mothers-in-law. He consulted an older brother, Craig, who said he'd love it if his own mother-in-law moved in.
An efficient setup
Now starting their fourth year of the arrangement, Paul Leek's only concern is that Mama G, as they call her, might want to go back to Chicago someday.
"My friends at work tease me because when I get to work, I have breakfast and lunch and coffee that she has prepared for me," says Leek, an engineer for Visteon. "They smell all that aroma and they say, 'Oh, your mother-in-law did it again, huh?' And sometimes she sends goodies for my co-workers."
Copyright 2018 The Lawrence Journal-World. All rights reserved. This material may not be published, broadcast, rewritten or redistributed. We strive to uphold our values for every story published.