Photo Gallery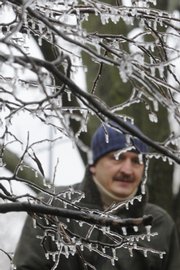 Behind the Lens 'Framing'
Framing within a camera's angle of view can be a creative visual device to add interest, depth and perspective to a photograph. This gallery of Journal-World staff shows some examples of the technique.
After a holiday hiatus, the Journal-World photo staff is ready to deliver some new "Behind the Lens" columns. I'll start where I left off and continue a look at 12 visual devices that are important in creating interesting photographs. I first wrote about and demonstrated "dominant foreground, contributing background" as a device that can add depth and perspective to an image. For this column, I'll look at "framing."
Of course, any camera will frame a subject. But that type of framing is a product of the camera itself. If you take a photo of a horse in a barn, the camera will certainly create a frame. If you take the photo of the horse as seen through a barn door, you have framed a subject within the scene. With this technique a photographer works with his or her scene and makes use of elements within the scene to construct creative framing. Like "dominant foreground, contributing background," this technique can add depth and perspective to subjects.
In the photo above I put myself in a position where my camera lens would include the music stands at left and right. Then I placed my main subject between the stands. This interior framing is a good way to add visual interest to any photograph. It's also a good tool to further direct a viewer's attention to your subject.
Take a look online at "Behind the Lens" this week to see other staff examples of using framing as a unique visual device.
Copyright 2018 The Lawrence Journal-World. All rights reserved. This material may not be published, broadcast, rewritten or redistributed. We strive to uphold our values for every story published.