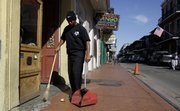 New Orleans — Since Hurricane Katrina, the beer-soaked, urine-splashed, puke-puddled French Quarter has been scrubbed clean. But with the city facing tough financial times, it may no longer be able to afford to pay for all the services of an army of sanitation workers who pick up after the partying.
The timing couldn't be worse for tourism officials working to continue bringing visitors to one of the city's brightest post-Katrina spots during a recession — and with Mardi Gras right around the corner.
The city's sanitation department has instructed contractor SDT Waste & Debris Services to halt its Disney-like services in the Quarter, including mechanical street sweeping and pressure washing, after Jan. 31. The company would still do basic trash pickup. But eliminating the $4 million in extra services would take about 75 sanitation workers off the streets.
'Face of the city'
Tourism and business leaders say the city, even with its financial struggles, can ill afford a return to a stinkier, dirtier French Quarter.
"The French Quarter is the face of the city of New Orleans for many people," said Kurt Weigle, president of the Downtown Development District, which does its own sidewalk cleaning outside the Quarter. "As it goes, so goes people's perceptions of the rest of the city."
The Quarter was spared severe damage in Katrina because it is on relatively high ground near the Mississippi River, but Mayor Ray Nagin made cleaning up the touristy Quarter a centerpiece of the city's comeback. Nagin has defended his position, saying even without the extra cleanup, the Quarter would still have better services than it did before Katrina.
New Orleans' economy relies heavily on tourism and shop owners say they regularly hear visitors comment on the freshened Quarter, where trash as incidental as cigarette butts doesn't stay on the streets long. That's a far cry from before the storm, when a Sunday morning walk often included inhaling the nose-wrinkling stink of trash and what was left from the previous night's partying.
"I always thought that was part of the charm, that you had to smell puke, you had to smell all these different things while walking to work," said Gwen Rodriguez, who lives and works in the Quarter.
When SDT took over the French Quarter cleanup, it put crews on the streets 20 hours a day. SDT workers on litter patrol, also serving as a neighborhood watch of sorts, drove golf carts through the Quarter.
Budget battle
Nagin, while sympathetic to concerns of tourism officials, said the city doesn't have the money to maintain much more than routine trash collection services.
The city has relied on loans to balance its budget since Katrina with the goal of being self-sufficient by 2011. But Nagin and the City Council have been locked in a budget battle for months about how best to maintain basic city services while addressing an emergency fund depleted by Hurricane Gustav and trying to steady, if not improve, the city's financial standing to help it sell bonds for infrastructure projects and stave off large repayments from a pension fund deal that predated Nagin's administration.
A hiring and spending freeze Nagin imposed after Hurricane Gustav remains in effect, and Nagin spokeswoman Ceeon Quiett said that at a time when the city is struggling to maintain basic services, it cannot logically afford enhanced services.
The City Council put off settling the issue until Monday. Nagin, in an e-mail to two council members, said he'd be willing to continue enhanced services such as manual street cleaning, twice daily litter can pickups and special events cleaning for such occasions as Mardi Gras after Jan. 31, if the council met other budgetary conditions.
Copyright 2018 The Associated Press. All rights reserved. This material may not be published, broadcast, rewritten or redistributed. We strive to uphold our values for every story published.