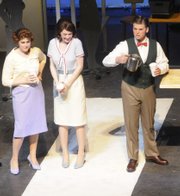 Mechele Leon had no idea the overtones the musical she's directing at Kansas University would bring with it.
The show? University Theatre's production of "How to Succeed in Business Without Really Trying."
"I didn't anticipate this when I picked the show two years ago," says Leon, assistant professor of theater and film. "I thought it was timely, but it turned out to be even more timely."
The 1961 musical has themes of making money out of nothing, appearances overshadowing substance and get-rich-quick schemes. Considering the recent history of overnight real estate profits, sketchy mortgages, inflated CEO salaries and Ponzi schemes, it's not much of a stretch to make modern comparisons.
"It really is a presentation of the perils of appearance, of relying on the notion that appearance can get us through so there's no substance," Leon says. She notes there also are similarities between "How to Succeed" and the hit TV show "Mad Men," about the advertising industry.
The show, which opens tonight at Murphy Hall, follows young J. Pierpont Finch in his rise up the World Wide Wicket Company, a business with strict gender roles — men are the executives and women are the secretaries.
The original production opened on Broadway in 1961, was made into a film in 1967 and had a Broadway revival starring Matthew Broderick and Megan Mullally in 1995.
"The piece is really well known," Leon says. "I think it's a great musical theater piece. And I want (students) to known why this piece is still relevant. It's not just a fluff piece. It's relevant to their lives. These are the kids who are going to have to grow up through this."
The show runs at 7:30 p.m. today, Saturday and March 4, 5 and 6, with a 2:30 p.m. matinee March 8. Tickets, available at the University Theatre (864-3982), Lied Center (864-2787) or Student Union Activities (864-7469), are $18 for the public, $10 for students and seniors and $17 for KU faculty and staff.
Copyright 2018 The Lawrence Journal-World. All rights reserved. This material may not be published, broadcast, rewritten or redistributed. We strive to uphold our values for every story published.