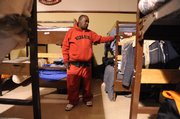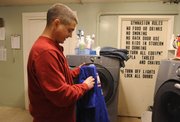 The Salvation Army announced Thursday that it is closing its 42-bed homeless shelter on May 1, leaving the city with a single shelter that currently is operating at capacity.
Salvation Army leaders said they made the decision to close the shelter, which has been in operation since the 1980s, because the organization will begin providing a new service that places a limited number of homeless families or homeless individuals into apartments across the city.
"We think it is important to look at the big picture," said Aaron Smith, director of community relations for The Salvation Army's Lawrence operations. "We do not want to throw people out on the street. That is not what we're doing. We don't see it that way at all.
"We feel like this decision is knitted together with where the community is going."
Smith said the new Salvation Army housing program would be a major addition to the city's homeless services scene. The program would allow a single homeless family or homeless individual to stay in an apartment for up to 24 months while they receive case management services from The Salvation Army and other social service agencies.
But the new program won't be large enough to house everyone who stays at The Salvation Army's shelter. The program is expected to serve a total of either five homeless families or individuals.
Search for a site
Homeless service advocates said that means the race is now on to find a new site to expand the Lawrence Community Shelter.
That 31-bed shelter, at 10th and Kentucky streets, currently operates at capacity each night and frequently turns away people who are seeking a bed.
Loring Henderson, director of the Community Shelter, said he would immediately begin looking for a temporary overflow shelter site that could provide nighttime accommodations for up to 50 people.
"We're doing some talking and some thinking now, but we see it as our responsibility to pick up the people who will be without emergency shelter," said Henderson, who said he was supportive of The Salvation Army's decision.
Henderson said he didn't yet have a site in mind for an overflow shelter, which would operate in addition to the main shelter at 10th and Kentucky.
The Lawrence City Commission this week gave preliminary approval to a new set of zoning regulations that would allow churches to temporarily serve as homeless shelters. The new regulations would give churches an automatic right — meaning no city permit is needed — to house homeless people overnight as part of their ministry, as long as the sheltering operation is temporary in nature. The city hasn't yet determined how to define temporary.
Henderson said he would explore the church possibility, but said it was too early to speculate where a temporary shelter site might be.
The Community Shelter also has been seeking a new permanent home that would allow it to serve upward of 100 people. Henderson said it was not realistic for the shelter to find a permanent home before the May 1 closing of The Salvation Army shelter.
Katherine Dinsdale, chair of the city-appointed Community Commission on Homelessness, said the community may have to consider temporary options that it finds uncomfortable. She said a variety of vacant stores and office buildings have the room to serve as a temporary shelter.
"There are lots of options out there that may not be acceptable in the long term, but this is a critical situation, and we need to make some temporary accommodations," Dinsdale said. "Then, we need to use our discomfort to accelerate our plans to find a new home for the Community Shelter."
Whether city government, however, will be in much of a position to help financially is uncertain. Mayor Mike Dever said he thought it was more likely that the private sector was going to have to step forward.
"The faith-based community has been stepping up here, and in most places that is the way it is," Dever said. "This is not a good time for the city to try to find additional revenue to cover the vacancy that is going to be created."
History of success
Wesley Dalberg, captain for The Salvation Army operations in Lawrence, said he was unsure how many individuals actually would be displaced by the closing. He said during the spring and summer, The Salvation Army shelter did not operate at capacity. Instead it normally housed about 25 to 30 people per night when the weather turned warmer. He expects some of those individuals to be housed as part of the new program or to find other housing arrangements.
But Dalberg said he's convinced the new transitional housing program was a positive step forward for the community's efforts to end homelessness.
Homeless service advocates generally agreed. Both Henderson and Dinsdale said The Salvation Army's actions were in line with the strategy the city has adopted to serve the homeless.
In 2007, city commissioners adopted a "vision" for homeless services proposed by the Community Commission on Homelessness. That strategy called for the community to have just one emergency homeless shelter, but for the community to significantly increase the number of transitional housing units available in the city.
Dalberg said The Salvation Army originally envisioned the new housing program being larger than five units, but the organization was unsuccessful in winning a startup grant from the Department of Housing and Urban Development.
Despite the lack of a grant, Dalberg said The Salvation Army decided to move forward because the programs have proven successful elsewhere. He said major studies have shown that, on average, 75 percent of families who enter the program successfully move on to more permanent housing. The average length of stay in the program is about 14 months.
Salvation Army leaders said a big part of the success is that participants are taught necessary skills to succeed.
"It really is built around that philosophy of teach a man to fish," Smith said.
The Salvation Army hasn't yet identified apartments to use for the program. Smith said the organization would soon start approaching landlords. The goal, he said, is to have the apartment units scattered throughout the city.
The Salvation Army will continue to keep its offices and sanctuary in its longtime building at 946 N.H. The space used for the shelter will be converted back to a gymnasium, which will be host to youth programs run by The Salvation Army.
Copyright 2018 The Lawrence Journal-World. All rights reserved. This material may not be published, broadcast, rewritten or redistributed. We strive to uphold our values for every story published.