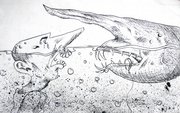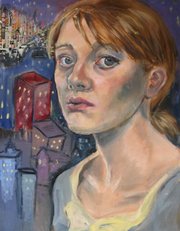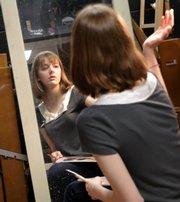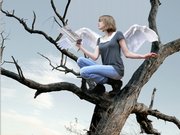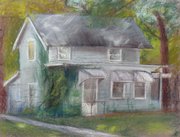 Whether it's on stage or on canvas, Kristen Gish loves creating characters.
The Lawrence High School senior is equally adept in visual art and acting — as long as she can focus on the details that make us who we are.
"She's just so multidimensional," says Wendy Vertacnik, a LHS visual arts teacher. "She has so many abilities. She really creates characters two-dimensionally as well as she does in her plays."
Gish is the ArtStar for February. The monthly award is sponsored by The World Company and Jayhawk Dental.
She says early on, she taught herself to draw, always driven by the perfectionist qualities that kept her re-drawing the same subjects time after time.
When she started taking art classes in junior high and high school, she continued to gravitate toward one type of subject.
"I love drawing people," she says, "and I love drawing a variety of different people — just not necessarily the people who you see in magazines. But I really enjoy drawing people who just have interesting facial features and interesting ways of holding themselves. I like drawing character."
It's the same way on stage. She's acted since she was in second grade, getting her start at the Lawrence Arts Center.
Her biggest high school role came last month, when she was Adelaide in the LHS production of "Guys and Dolls."
"What I love about acting is portraying a character — being someone that I'm not, finding ways of how they move their hands, how they talk their facial features, their facial expressions," Gish says.
In addition, she uses her acting in the National History Day competition. Last year, she advanced to nationals with a first-hand portrayal of Jeannette Rankin, the first woman elected to the U.S. House. This year, she's portraying Golda Meir, first prime minister of Israel.
Gish also is a member of the LHS Chorale and A Capella Choir.
Though she enjoys her varied activities in high school, Gish looks forward to honing her visual artistic talents in college. She hopes to attend the Ringling College of Art and Design in Sarasota, Fla., where she attended a summer program last year. She's hoping to hone all aspects of her drawing and painting, and to learn computer graphics.
Gish eventually wants to go into animation, which she considers a blend of her visual and acting skills.
"Animation is such a beautiful combination of acting and art," she says. "It really involves capturing a character, and that's something I love to do, and I've loved to do that since I was really little. It's just a passion of mine."
Copyright 2017 The Lawrence Journal-World. All rights reserved. This material may not be published, broadcast, rewritten or redistributed. We strive to uphold our values for every story published.