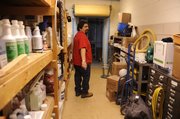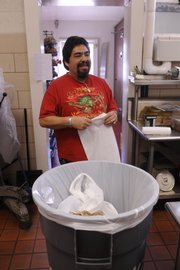 Cool custodians in pop culture
They're likable, smart and fearless — here are some of pop culture's best custodians.
• John Kapelos as Carl, "the eyes and ears of this school," out-cooled the entire Brat Pack cast in "The Breakfast Club," 1985.
• Neil Flynn as The Janitor on NBC's "Scrubs" may not save lives, but he keeps an enormously self-centered group of doctors in check.
• Perhaps the best kind of role model, Pat Morita as Mr. Miyagi teaches "The Karate Kid" (1984) how to be a martial arts star and stand up for himself, too.
• Matt Damon as Will Hunting ("Good Will Hunting," 1997) is discovered to be a mathematical genius while doing custodial work at MIT.
• OK, he might not be much of a role model, but Groundskeeper Willie of "The Simpsons" (Fox) has his heart in the right place.
With his red hair and his trademark overalls, Groundskeeper Willie — the janitor/groundskeeper in "The Simpsons" — utters an "Ach, Wendel. 'Tis a mighty puddle of puke" in a 1989 episode from the cartoon sitcom.
"I'm sorry," says Wendel, the Springfield Elementary School student, who had vomited.
"That's all right, lad," Willie says. "You reminded me of why I got into this work in the first place."
Willie is known for his bad behavior on the show as the school's custodian, but his heart seems to be in the right place.
One longtime Lawrence schools custodian, who is nearing his 18th anniversary with the district, says he plays a critical role in the school day.
"We are role models. Even though I'm still a custodian, I'm still a role model," says James Ortiz, in his first year as head custodian at West Junior High School, 2700 Harvard Road.
Ortiz is one of more than 80 custodial employees in the district who show up every day at schools performing necessary duties.
"I just think a clean building makes people happy, and kids notice it, and parents notice it," Ortiz says. "So if it's clean, they're happy to be here."
He sees it as his role in the educational process — something that has come to him over time, since he was laid off in the early 1990s as a maintenance man.
Don't call them janitors
Ortiz was looking for a job after the layoff when he landed on his feet as a custodian in the district in 1991.
Eventually he moved onto the crew of legendary South Junior High custodian Emory Hamm, who was there from 1970 to 1996, and Hamm started with the district in 1955.
Now, this year, Ortiz is the head custodian at West, where he leads a staff of four other workers.
Ortiz pulls up to a parking space near the front door at 5:30 a.m. This day he parks his purple Harley-Davidson motorcycle.
He unlocks the front door — the first step for readying the building for students and teachers.
After clocking in, he starts cleaning up the gymnasiums and the bathrooms. By 6 a.m., he needs to open one gymnasium for a group of district employees, who participate in a yoga class.
Later, it's on to the cafeteria to get things ready for breakfast.
"Sometimes I eat breakfast with the kids because I have to clean up after them," he says.
But it's more than just waiting around to clean up a mess.
"I have quite a few little friends," he says.
Like Groundskeeper Willie, one week he was called to a classroom on back-to-back days to clean up a mess in the same classroom where kids got sick.
"I don't know if it was the same kid or not," Ortiz says.
It's not glamorous, and — unlike Willie — probably not why he got into the line of work.
But...
"I just put my gloves on. It doesn't bother me," he says. "That's my job keeping this place clean."
That's the perfect attitude for the district's custodians, says Tom Bracciano, the district's division director for operations and facility planning.
Bracciano started as Wakarusa Valley School's custodian in 1983 and worked his way up — eventually graduating from college — into his administrative position.
Their jobs involve a lot more, like checking on building maintenance, dealing with the public and making sure doors are locked, etc.
"They're really a custodian. That's why we don't call them janitors. They have custody of the building," Bracciano says.
Learning from a legend
Ortiz learned the tricks of the trade from Hamm, the legendary custodian and fixture at South Junior High School. Hamm taught him the secrets about how to keep nearly everything in the building spotless.
"He was really proud of what he did, and he was really into it," Ortiz says of his mentor.
Administrators are happy to have custodians still in the district who can carry on Hamm's enthusiasm.
"He took pride in everything he did. He was very articulate, caring, and he was also pretty demanding on everything," says Bracciano, who also once worked under Hamm.
For Ortiz, his job might not get the glamour, but he's far from an ornery Groundskeeper Willie or other unpopular television janitor.
"I just like it because I like helping people. I like helping kids, and it's a job, and everybody needs a job," Ortiz says.
Copyright 2018 The Lawrence Journal-World. All rights reserved. This material may not be published, broadcast, rewritten or redistributed. We strive to uphold our values for every story published.