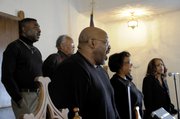 In the mood for music? The St. Luke African Methodist Episcopal Church, 900 N.Y., is hosting its annual Black History Month Musical at 3:30 p.m. Sunday.
The church fundraiser will feature performances by St. Luke's choir and other choirs, including ones from the Lawrence Indian United Methodist Church, Plymouth Congregational Church, Bethel African Methodist Episcopal Church of Leavenworth, Calvary Church of God in Christ, Ninth Street Missionary Baptist Church, First Regular Missionary Baptist Church and St. James African Methodist Episcopal Church.
Donations will be accepted.
St. Luke's pastor, the Rev. Verdell Taylor, says the event is meant to be a joyful commemoration of heritage.
"The goal of the event on Sunday is just to celebrate the Black History Month with song," Taylor says. "Since with our background, our heritage has always been singing songs of praise. The slaves sung songs to get from one location to the other. So, we want to emphasize the singing on that last Sunday in February and we've been doing this for a number of years now."
Copyright 2018 The Lawrence Journal-World. All rights reserved. This material may not be published, broadcast, rewritten or redistributed. We strive to uphold our values for every story published.