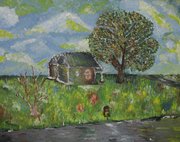 ArtStar
The ArtStar program, co-sponsored by Jayhawk Dental and The World Company, recognizes seniors in Lawrence high schools who demonstrate outstanding achievement in the fine arts. Honorees also must excel academically.
Nine monthly winners (September-May) will be selected via nomination by fine arts teachers and featured in the Journal-World and on 6News.
An overall winner will be chosen from among those and designated ArtStar of the Year. The annual award will come with a scholarship.
For more information, contact Jon Niccum, Journal-World entertainment editor, at jniccum@ljworld.com or 832-7178.
Ceramics. Jewelry. Sculpture. Painting. Sketching. Song and dance. Piano.
Bishop Seabury Academy senior Jasmine Tse dabbles in all sorts of art and excels at each one of them. But she's not one to brag.
"She doesn't really give herself credit for being as capable and talented as she is," art teacher Laura Torres Porter says.
Tse just finds art as a way to relax and let her creativity take shape.
"It actually relieves my stress a lot since I can just sit there quietly and do the things that I really want to do," Tse says.
Originally from Hong Kong, her parents sent her to the United States to get an education and learn English. She's been here for three years and finds that the curriculum on the other side of the world is more her style.
"I think Americans have some emphasis on art because in Hong Kong, we just do all sorts of science and math as your priority," Tse says. "People just get really crazy on it."
But her artistic talents have come to life in America. Tse is the ArtStar for December. The award is sponsored by Jayhawk Dental and The World Company.
Tse's current favorite artistic endeavor is ceramics. She molds whatever her mind creates.
"You get to make different shapes out of ceramics on your own, and I really like just sitting there and doing something with my hands like that," she says.
Torres Porter says Tse is a sophisticated artist who wants to take every assignment and project to the next level.
"There are times when she wants to experiment or take something beyond, maybe create a series or go further with something," Torres Porter says. "She's free to pretty much do what she wants to do."
Tse's portfolio ranges from geometric pencil sketches and mosaics to nickel silver cuff bracelets and impressionist paintings on canvas. But she also has talents in the musical arts department. She was a finalist in last year's Hong Kong-Asia Piano Competition. She also was thrust into the spotlight when, as an understudy for a major role, the primary actor got sick in the school's production of "Grease" last spring.
"Jasmine stands out here as a multi-faceted artist," Torres Porter says. "She works well in drama and she's an excellent pianist. She does outstanding work."
Tse finds her American school is a comfortable learning environment and fosters creativity.
"The school is really small, so we have a really special bond between students and teachers," she says. "It's really good to have that."
Torres Porter can see traces of Tse's father's influence. His career and skill as an architect runs through Tse's creative streak.
"You can just see that follow through in all her work," Torres Porter says. "Everything she does is so meticulous. I just love to see her tap into more of what she's capable of doing."
Tse doesn't foresee a career in art. She's looking at colleges in the United States, Canada and Hong Kong, but isn't exactly sure where she'll end up.
"I actually want to major in business," Tse says.
But that doesn't mean art will be out of her life for good.
"Business is really stressful. Everyone kind of knows that," Tse says. "Art will definitely reduce your stress. It gives you quiet and calm."
Torres Porter says Tse is a great student and that art acts as an equalizer between expression and academics.
"She is a very driven young lady, and I think this provides a nice balance for her to feel comfort and challenge at the same time in pursuing art," Torres Porter says. "She really could put art in her life somehow in a way that is comfortable to her."
Tse left the rigor of left brain studies that dominate in Hong Kong behind and uses her art to show that she's a well-rounded student and can stretch her imagination to encompass a wide variety of artistic crusades.
"Math questions have a definite answer," Tse says. "There's no right or wrong in art."
Copyright 2018 The Lawrence Journal-World. All rights reserved. This material may not be published, broadcast, rewritten or redistributed. We strive to uphold our values for every story published.