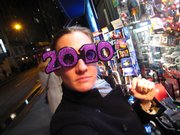 New York — The decade's end was supposed to finish off those wacky, year-shaped glasses favored by the reveling seas on New Year's Eve in Times Square and around the world. Gone would be the convenient loops of the 1990s and the double-zero good times of the '00s.
Where was the 1 going to go? Doubters said it couldn't be done.
Well, turns out the 2010-shaped specs ain't half bad. Accommodating the 1 while making sure people can see out of the things has resulted in some semblance of symmetry, as goofy glasses go.
Some designs sport an elevated 1 that rests atop the nose bridge. Others squeeze the problematic peephole inside the dastardly digit that will be with us in the No. 3 spot for quite some time. Still other versions piggyback the entire year above two big circles used for seeing.
"The 2010 glasses are a WIN. Not only because some upstarts made these glasses when other people said they couldn't, but also because we're more than happy to say good riddance to 2009 and welcome 2010," said Ben Huh, who founded the popular Failblog.org and recently showed off the new-decade shades on his latest venture: Epic Win for the Win (EpicWinFTW.com).
Copyright 2017 The Associated Press. All rights reserved. This material may not be published, broadcast, rewritten or redistributed. We strive to uphold our values for every story published.