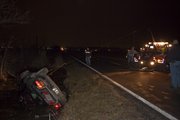 A woman was treated and released from Lawrence Memorial Hospital after a Tuesday evening rollover accident just south of 31st and Haskell streets.
Crystal Pedram ran a stop sign, while westbound on North 1250 Road, and rolled her car into a ditch that often fills with water, emergency workers said. Sgt. Steve Lewis, sheriff's spokesman, said he didn't know where the woman was from.
Copyright 2018 The Lawrence Journal-World. All rights reserved. This material may not be published, broadcast, rewritten or redistributed. We strive to uphold our values for every story published.