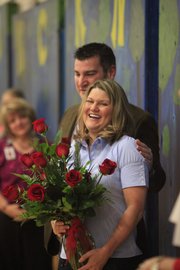 The school day Thursday started off with a big surprise and a big check for one Lawrence elementary teacher.
Mary Chamberlin, a special education teacher in her sixth year at Pinckney School, was awarded this year's Dedication to Education Award at an all-school assembly.
"I'm just really appreciative and surprised and excited," Chamberlin said.
The Dedication to Education Award is a teaching honor that was created through the Lawrence Schools Foundation in 2007 by a group of community members following in their fathers' footsteps. The donors are the sons and daughters of another group of anonymous donors, The Bobs.
Chamberlin's fellow teachers nominated her for the honor.
"I have never seen another teacher like her," sixth grade teacher Christine Anderson said.
Sixth grade teacher Beck Spradlin, a 34 year teaching veteran, said Mary goes above and beyond her education duties.
"I have never worked with a special eduation teacher who contributes as much as Mary," Spradlin said. "She makes all of us better teachers."
Chamberlin, however, said she never expected to be awarded for doing her job.
"It's just what I'm supposed to do," she said. "(I'm) just really surprised it was me."
The award comes with $5,000, and Chamberlin already knows what she'll use it for.
"We are wanting to buy our first house, so we're hoping to put that towards a down payment on a house," she said. "It's really a blessing."
The Dedication to Education Award honors someone who supports the goal of "Learning for All, Whatever It Takes" by making sure challenged and disadvantaged students learn.
Copyright 2018 The Lawrence Journal-World. All rights reserved. This material may not be published, broadcast, rewritten or redistributed. We strive to uphold our values for every story published.