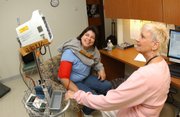 Martinsburg, W.Va. — Doctors at the Veterans Affairs Medical Center in this quiet, bucolic town tucked between coal country and the nation's capital used to go months without treating a female veteran.
Today, they're reporting the beginning of a boom.
Mixed with the Vietnam and World War II-era patients waiting for a doctor are 20-something women who served in Iraq and Afghanistan, reading Allure magazine and, in some cases, coming in for pregnancy tests.
The hospital sees nearly twice as many women as it did before the Sept. 11 attacks. Administrators have now opened a women's clinic. Waiting areas soon will have kid-friendly tables. An onsite day care for veterans with medical appointments is under review.
'Not the old guys group'
"It's not the old guys group anymore," said Ann Brown, the medical center director, from her office inside the brown brick hospital not far from Harpers Ferry. "It's women and it's younger, and the younger folks, they need more than just medical care. They've got family issues."
A system long geared toward treating an aging male population is scrambling to care for thousands of female veterans. Most of the women who served in the recent wars are under age 40.
In the last budget year, the VA saw 281,000 female veterans, a 12 percent increase from two years earlier. Women represent one in 16 veterans in the system, but in 15 years are projected to represent one in seven.
This increase has forced changes in the VA's culture, in addition to its medical system. Not only have VA facilities had to get equipment such as gynecological exam tables, they've had to create a place where women feel comfortable.
In Martinsburg, the hospital recently got a bone density scan machine and had an interior decorator design a warm, neutral-colored room with beach-themed art work. The door closes for privacy, and there's a hook for hanging up clothes — accommodations that once weren't much of an issue, said Terry Hopper, the nuclear medicine supervisor.
Feeling out of place
Still, change is not happening fast enough for some women in the VA's system. Positive changes are in the works, said Joy Ilem, assistant national legislative director at Disabled American Veterans. But, Ilem said, "They are not at the point where if you go into every VA clinic that you know you're going to get good care if you're a woman veteran."
Beyond Martinsburg, some female veterans said the VA staff didn't believe them when they said they had been in combat. Other women described being mistaken for daughters or granddaughters of male patients.
"You do feel kind of out of place there just because VA hospitals are consumed by Vietnam vets," Staff Sgt. Meghan Meade, 26, of East Moriches, N.Y. A gunner in the Air National Guard, Meade broke her leg in 2006 while in Iraq and had two years' worth of procedures at the VA in Northport, N.Y.
Retired Staff Sgt. Karen Boudriault, 49, of Waterboro, Maine, spent 26 years in the military before retiring in 2007. She said she was far from amused when she went in to a VA facility in Manchester, N.H., for a post-Iraq deployment physical, and the phlebotomist drew blood to test her prostate — a gland women don't have.
Congressional investigators in July said that VA hospitals weren't always providing privacy to female veterans when they bathed and received exams. Investigators found that many VA facilities had gynecological tables that faced the door.
Some female veterans have complained that they were turned away from appointments when they showed up with children. In response, VA Secretary Eric Shinseki told a congressional panel in October he issued a directive allowing patients to bring children along for appointments, unless they were seeking mental health care or were in intensive care.
Tammy Duckworth, a VA assistant secretary who was a helicopter pilot in Iraq and lost both her legs and partial use of an arm in an attack, said the VA needs to continue to change its programs to better suit women's needs.
"You have to service the most vulnerable member of your population, and if that is the young 18-year-old who experienced traumatic either PTSD or military sexual trauma, she should be able to get exactly the treatment that she needs from VA," Duckworth said.
Copyright 2018 The Associated Press. All rights reserved. This material may not be published, broadcast, rewritten or redistributed. We strive to uphold our values for every story published.