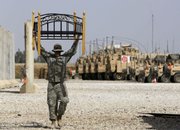 Baghdad — The U.S. military is packing up to leave Iraq in what has been deemed the largest movement of manpower and equipment in modern military history — shipping out more than 1.5 million pieces of equipment from tanks to antennas along with a force the size of a small city.
The massive operation already under way a year ahead of the Aug. 31, 2010 deadline to remove all U.S. combat troops from Iraq shows the U.S. military has picked up the pace of a planned exit from Iraq that could cost billions.
The goal is to withdraw tens of thousands of troops and about 60 percent of equipment out of Iraq by the end of next March, Brig. Gen. Heidi Brown, a deputy commander charged with overseeing the withdrawal, told The Associated Press in one of the first detailed accounts of how the U.S. military plans to leave Iraq.
Convoys carrying everything from armored trucks to radios have been rolling almost daily through southern Iraq to Kuwait and the western desert to Jordan since President Barack Obama announced the deadline to remove combat troops, leaving up to 50,000 troops under a U.S.-Iraqi security agreement until the end of 2011.
First out, Brown said, will be the early withdrawal of an Army combat brigade of about 5,000. Defense Secretary Robert Gates has said a brigade would leave by the end of the year, months ahead of schedule, if violence in Iraq did not escalate beyond current levels.
That will be followed by the Marine Corps, which has already shipped out about half of its 22,000 troops and more than 50 percent of its equipment since May.
"In about six months or less, they will be gone," she said.
The U.S. military also plans to shrink the contractor force from roughly 130,000 to between 50,000 and 75,000 by September 2010. Those remaining would pick up additional duties from departing troops, Brown said.
The nearly 300 American bases and outposts currently remaining in Iraq will shrink to 50 or less by the president's deadline, Brown said.
The Al Faw Palace in Baghdad, which serves as the U.S. military headquarters, is among U.S. operations expected to be turned over to the Iraqis, she said.
The price tag to move the American force has not been fully calculated by the Pentagon because it was not immediately clear how much equipment would be returned to the United States, donated to the Iraqis or shipped to Afghanistan, according to officials.
However, the independent Government Accountability Office reported to Congress earlier this year that the withdrawal would be a "massive and expensive effort" that would likely increase war costs by billions. It also estimated an additional $12 billion to $13 billion a year would be needed for two years following the withdrawal for maintenance, repairs and replacement of equipment returned from Iraq.
Not since Vietnam has the U.S. withdrawn so many troops and so much equipment with a looming deadline.
The military anticipates keeping the majority of its 130,000 combat troops currently in Iraq until nearly two months after the Jan. 16 national elections, then rapidly drawing down troops and equipment in the weeks that follow.
The plan was based on orders by Gen. Raymond Odierno — the top commander in Iraq who used a similar approach following this year's provincial elections. Odierno waited 60 days after balloting to make decisions about future movement, and shifting American soldiers south to Basra to replace the departing Brits.
Brown said the phased withdrawal of troops and equipment could be halted at any time, if, for example, the Iraqi government asks U.S. troops to stay longer because of a resurgence in violence.
One of the biggest challenges is moving the millions of tons of equipment.
The military has identified more than 1.5 million pieces of equipment, from tanks to antennas, that need to be shipped out of Iraq, Brown said.
Under the plan, much of that equipment would go by ground to Kuwait, 330 miles south of Baghdad, and to Jordan's Aqaba port, more than 500 miles southwest of Baghdad, where it would either be shipped back to the states or sent to troops in Afghanistan, Brown said. Some will likely go through Turkey as well.
Copyright 2018 The Associated Press. All rights reserved. This material may not be published, broadcast, rewritten or redistributed. We strive to uphold our values for every story published.