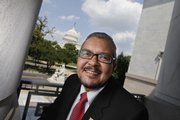 Momentum is building for Congress to pass the first major civil rights act protecting gays and transsexuals, supporters say, and one of the stars in the debate is a barrier-breaking transgender staffer on Capitol Hill.
The Employment Non-Discrimination Act, or ENDA, would prohibit workplace discrimination — including decisions about hiring, firing and wages — based on sexual orientation or gender identity. It would exempt religious organizations, the military and businesses with less than 15 workers.
The driving force behind the bill has been Rep. Barney Frank, D-Mass., the longest-serving of the three openly gay members of Congress. He expects hearings on the measure to be held this fall.
Frank pushed ENDA in 2007, but it foundered because of insufficient backing in the Senate and a split within the gay and transgender communities. Many activists were irate because Frank — seeking support from wavering colleagues — was open to covering sexual orientation but not gender identity, excluding transgender people from protection.
This time around, several factors have changed:
• Barack Obama is now president, and is on record supporting ENDA. A veto was considered possible if the 2007 bill had reached then-President George W. Bush.
• ENDA's core supporters, including Frank, have agreed they will push only for a bill that includes gender identity.
• The bill has picked up key support in the Senate, where it was introduced earlier this month by Oregon Democrat Jeff Merkley and Maine Republicans Susan Collins and Olympia Snowe. Even without other GOP senators, Merkley believes it has a good chance of obtaining the 60 votes that likely will be needed to pass the Senate.
The main Senate champion of ENDA in the past had been Sen. Edward Kennedy of Massachusetts, who died Tuesday. That role was passed on to Merkley earlier this year.
There is another difference from 2007. Frank now has a policy adviser who is a female-to-male transsexual. Diego Sanchez is the first transgender person hired for a senior congressional staff position on Capitol Hill.
Sanchez has done extensive face-to-face lobbying for ENDA, and Frank says that's enabled some members of Congress to get to know a transsexual for the first time.
"He interacts with a lot of people," Frank said. "Prejudice is literally ignorance."
Frank says he now doubts votes will be cast against ENDA solely because it extends to transgender people.
Sanchez is a longtime activist who worked for the AIDS Action Committee of Massachusetts and was a delegate to the Democratic National Convention last year before joining Frank's staff. Back in 2007, he was among a minority of transgender activists who accepted Frank's tactical decision to drop gender identity from that version of ENDA.
"He's called on the entire community since then to lobby, work — and the community has said, 'OK, we've got one game plan, and it's Barney,"' Sanchez said. "There's broader support this time."
Opponents of ENDA — led by several national conservative groups — concede that the bill has enough support to clear the House, and expect a closely fought battle in the Senate.
Ashley Horne, federal issues analyst for Focus on the Family, promised that her conservative Christian ministry would encourage tough opposition.
"It's definitely a bill we will put a lot of resources toward fighting," she said. "Our primary concern is the chipping away of religious liberties."
Twenty-one states already have laws prohibiting workplace discrimination on the basis of sexual orientation, and 12 extend those laws to gender identity — California, Colorado, Iowa, Illinois, Maine, Minnesota, New Jersey, New Mexico, Oregon, Rhode Island, Vermont and Washington. Several other states protect public employees who are gay or transgender.
Copyright 2018 The Associated Press. All rights reserved. This material may not be published, broadcast, rewritten or redistributed. We strive to uphold our values for every story published.