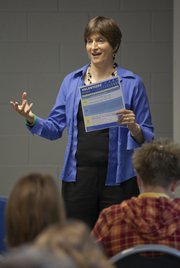 The slogan LiveWell Lawrence made its first big public debut on T-shirts and apparel in July at the "World's Largest Community Workout."
That slogan is part of a growing community movement to get people moving and living a healthier lifestyle.
"The more people that know about it, the better it will be," said Tracy Burns, manager of Metabolic Research Center.
LiveWell organizers had their first community outreach event Wednesday afternoon at the East Lawrence Recreation Center, and about 35 people attended.
"It really is about finding out what our community can do to help people be healthier," said Marilyn Hull, program and communications officer at the Douglas County Community Foundation. "We're just really trying to build a network of people who are interested in this topic and willing to make some things happen in our community."
According to LiveWell Lawrence organizers, 64 percent of Kansas adults are considered overweight or obese. In Douglas County, that number is 52 percent.
Organizers' goal is to reduce that percentage.
"We have these opportunities to participate in Dog Days or exercise programs, shopping at the farmers' market and eating local food," said State Sen. Marci Francisco, D-Lawrence. "I think the idea is for us to be thinking every day about what's going to work best for me and my family to help build a healthy Lawrence."
Much of the discussion Wednesday afternoon centered on the need to get children away from the television and computer screens and outside. Participants said many studies support the fact that children intellectually and physically need to be outdoors.
LiveWell Lawrence aims to create a healthier community through examples set by the partnering businesses and organizations.
"We're hoping to bring more awareness," said Nate Miller, distributor for MonaVie beverage company. "It's no secret. Exercise and eat right."
LiveWell Lawrence will have another community forum at 7 p.m. Sept. 3 at the Holcom Park Recreation Center, 2700 W. 27th St.
Copyright 2018 The Lawrence Journal-World. All rights reserved. This material may not be published, broadcast, rewritten or redistributed. We strive to uphold our values for every story published.