Topeka — The state's top prison official Monday told lawmakers that recent budget cuts have reduced public safety and any further cuts will make matters worse.
The House Appropriations Committee shut down for the night after hearing from several state agencies about the impact of recent budget cuts.
The Kansas Department of Corrections has been cut $23.5 million, approximately 8 percent of its budget.
Corrections Secretary Roger Werholtz said the cuts have decimated education, training and rehabilitation programs for inmates. The state inmate population is at 8,020, about 100 below the system's capacity.
State lawmakers are looking at a budget deficit in the next fiscal year that is projected to be several hundred million dollars. House Republican leaders have vowed not to raise taxes. Appropriations continues its two-day meeting Tuesday with several school district officials appearing before the panel.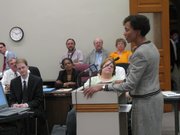 2:40 p.m. KU Chancellor Bernadette Gray-Little made her first appearance before the Kansas Legislature this morning. She addressed the House Appropriations Committee.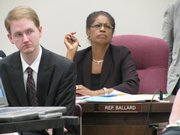 2 p.m. A report given Monday to House budget writers that says the state has billions of dollars in `unencumbered' funds that could be given back to taxpayers or used to fill in budget holes was greeted with skepticism by several lawmakers.
But others said the report by the Flint Hills Center for Public Policy was helpful.
The report says there is approximately $2 billion in `unencumbered' funds in cash balances that state agencies have essentially stashed away.
But Gov. Mark Parkinson's administration says that just isn't the case. While the funds may be considered "unencumbered" they are dedicated for specific purposes throughout the fiscal year.
"It's more complicated than it might appear at first blush," said Parkinson. For instance, the unemployment trust fund had several hundred million dollars in it at the start of the fiscal year, but that money has been drawn down to pay unemployment compensation claims.
State Rep. Barbara Ballard, D-Lawrence, a member of the House Appropriations Committee, said after the Flint Hills presentation, "I really am skeptical." But state Rep. Kasha Kelley, R-Arksansas, said the report was useful in that it looked at something in a new way. "Business as usual is not going to get us out of this mess," she said.
David Trabert, president of the Flint Hills group, also said schools statewide have more than $1 billion in cash balances. But education officials have said that money is needed to make payments on services.
Related document

Report on unencumbered fund balances in state government ( .PDF )
11:20 a.m. The House Appropriations Committee on Monday started two days of hearings by getting an earful about the state's struggling economy.
Alan Conroy, director of the Kansas Legislative Research Department, said the state's 7.7 percent unemployment rate "is of great concern."
Conroy said it is concerning because of the number of Kansans out of work, which reduces tax receipts used by the state general fund to support services.
While nationally, economists have talked about the recession leveling out, Conroy said Kansas traditionally lags the rest of the nation by six months going into a recession and six months emerging from one.
Dave Trabert, president of the Flint Hills Center for Public Policy, was next up before the committee. The center says the state is sitting on $2 billion in unencumbered cash reserves. State budget officials have said the center is incorrect in its assessment of these funds.
Appropriations Chairman Kevin Yoder, R-Overland Park, said the meetings represent "summer school" for the committee to get a handle on the budget problems.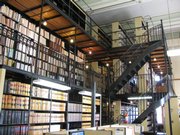 8:04 a.m. One of the most interesting places in the Capitol is getting ready to celebrate its birthday while also preparing to move because of renovation work in the building.
The State Library of Kansas draws oohs and aahs from thousands of schoolchildren and other tourists every year with its stacks of books, glass floors and winding staircases.
The library will celebrate its 154th birthday on Tuesday; it actually started receiving funding before Kansas was a state. But it will be moved from its 3rd floor home toward the end of this year because of Capitol renovation work.
It will, however, be located in temporary quarters on the Capitol grounds for the next 2 1/2 years, serving state agencies, the Legislature, libraries across the state and the general public.
Copyright 2013 The Lawrence Journal-World. All rights reserved. This material may not be published, broadcast, rewritten or redistributed. We strive to uphold our values for every story published.