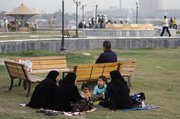 Baghdad — Some worshippers stayed away from mosques Friday, offering their traditional prayers at home. Markets had fewer-than-usual shoppers. Parks were strangely uncrowded — unusual for a hot August day.
The normally bustling streets of Baghdad were subdued, in sharp contrast to the lively atmosphere that had been creeping back as major violence ebbed the past two years.
Devastating truck bombs targeting symbols of state authority this week have undermined Iraqis' confidence and battered the prime minister's image as a champion of security ahead of parliamentary elections in January.
Iraqis have grown used to explosions in the years since the 2003 U.S. invasion, but Wednesday's attacks against the Foreign and Finance ministries dashed hopes that the security situation had turned around for good.
They rekindled a climate of fear the government had desperately sought to relegate to the past.
The irony in the now-outdated message on the new billboard at Baghdad's Liberation Square says it all.
"Our victory brings back a smile to Baghdad," reads the giant poster featuring the face of a beaming boy.
For years, Baghdad had not looked better and seemed more lively than this summer. Thousands have been crowding riverside green spaces and amusement parks, packing outdoor restaurants and cafes, and thronging to markets.
Prime Minister Nouri al-Maliki's government fed hopes for better days with a recent announcement that concrete blast walls, the defining symbol of years of strife, would be removed, reopening roads and relieving traffic congestion.
All that ended this week.
With at least 101 dead and more than 500 wounded in Wednesday's violence, Baghdad appears to have abandoned, at least temporarily, its quest for returning to normal. Images of gutted buildings, firefighters extracting charred bodies from burned cars, and a collapsed stretch of highway brought back memories of days that many in the city thought were behind them.
They were particularly painful because they came at a time when al-Maliki was tirelessly dismissing the insurgency as way past its prime and talking up the capabilities of the Iraqi security forces, despite concerns that the moves were too soon after the June 30 withdrawal of U.S. troops from populated areas.
No street demonstrations were held to protest the perceived security failures of Iraq's security forces and the government, but Iraqis found other ways to register their disappointment.
Many stayed home from work Thursday — the last day of the Muslim business week ahead of the Islamic holy month of Ramadan — because of fears of similar attacks. Some worried that mosques also could be targeted.
"After seeing that most of the streets are empty, four friends and I decided to offer the prayers in my house instead of going to the mosque," said Ibrahim Moussa, who owns a shoe store in eastern Baghdad.
The parks where families seek refuge from summer's unforgiving heat saw fewer visitors. Traffic thinned considerably. Many who ventured outdoors stayed in their neighborhoods. Some stores were shuttered on both Thursday and Friday.
Talal Ahmed, a 35-year-old construction contractor in the Sunni district of Azamiyah, said the bombings had scared people away from the wholesale market at Shorja, where items are cheaper, and allowed local stores to raise prices ahead of Ramadan.
"We should pray during this month for the unity of Iraqis and for their loyalty to be for Iraq — not for the political parties — so we can rebuild our country, which has been torn apart by violence and wars."
The bombing of the Foreign Ministry, which sits next to the protected Green Zone, was the worst of the two, and the search for bodies continued Friday. After nightfall, men looked for missing relatives inside the charred skeletons of cars across the road from the ministry, using flashlights and the headlights of police cars.
Copyright 2018 The Associated Press. All rights reserved. This material may not be published, broadcast, rewritten or redistributed. We strive to uphold our values for every story published.