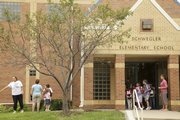 Erika Dvorske didn't much like the prospect of her 6-year-old son walking the equivalent of a 5K, crossing two of the city's busiest streets and its most accident-prone intersection, just to get to and from school.
So she and a growing list of parents are renting a school bus to safely ferry at least 22 classmates from the Prairie Meadows neighborhood back and forth from their scholastic finish line, Schwegler School.
"This probably does seem like a drastic solution," said Dvorske, whose son, Nicholas, is in first grade. "I'm not opposed to my son walking for two blocks — a half mile, even. But 1.8, across 23rd and Iowa, wasn't really a viable solution."
Dvorske's innovative program — working through the Schwegler PTA, Prairie Meadows Neighborhood Assn., First Student bus service and others — is among the various efforts that parents and children are employing as they grapple with $450,000 in cutbacks to the Lawrence school district's busing system.
New this academic year, parents of elementary students who live within 2.5 miles of school no longer can pay up to $100 each semester to get bus service. The change — announced in May, to give parents time to plan and prepare — has spawned a number of shifts in back-to-school transportation:
• Cars are filling up parking lots and side streets more than ever. At South Junior High School, Assistant Principal Lynn Harrod has taken to standing in the middle of Louisiana Street to direct traffic into a parking lot where last year's lineup of nine buses has dwindled to three, leading to more parents dropping off and picking up their kids. "It's increased exponentially," Harrod said.
• Parents at Deerfield, Hillcrest, Langston Hughes, Quail Run and Woodlawn schools have learned the possibilities for starting "walking school bus" programs, wherein parents and others lead children on designated pedestrian routes before and after school, safely picking up and dropping off students as they go. "We're doing what we can," said Amerika Grewal, an organizer who leads such trips for her son and others at Sunflower School. "This is a stopgap. … I have nightmares about the intersection of Inverness and Clinton Parkway."
• The city of Lawrence has installed flashing school beacons along some popular walking routes near schools, to help protect children who walk or ride bikes to class.
• Working parents are leaning on friends, family and coworkers to help fill the inevitable and often unavoidable gaps left behind when the district chose to cut bus service rather than increase class sizes or otherwise cut into classroom resources.
Maria Cruz, for one, is sacrificing an hour a day from her work schedule — and more on Wednesdays, when schools have early dismissal — to pick up and drop off her son, Eduardo, for first grade.
"I'm not happy," said Cruz, a housekeeper at The Eldridge Hotel.
Pay to ride
Dvorske and other parents at Schwegler may not be happy, either, but she's careful to point out that she understands the pressures of meeting community needs on tight budgets. When she's not picking up Nicholas at school, Dvorske is working as executive director of the United Way of Douglas County.
She doesn't fault members of the Lawrence school board for cutting bus service to preserve classroom integrity. That's why she started meeting with other parents in the spring, to see if they could "brainstorm" another way to solve their transportation problems without relying solely on more carpooling or biking or walking.
"This is a great community, and people want to be supportive and people want to come together," Dvorske said. "I actually believed it was possible."
After months of meetings and discussions and phone calls and e-mails, Dvorske lined up a special deal with First Student, the district's transportation provider.
For $1,750 per semester, First Student would run a single bus in the morning to school, and again in the afternoon from school. The bus would make two stops in the neighborhood — at Holcom Recreation Center, 2700 W. 27th St., and a former Lawrence-Douglas County Fire & Medical station, 2819 Stonebarn Terrace.
Dvorske's plan: charge $100 per semester — $200 per year — for each child, payable to the Schwegler PTA. The amount is identical to the initial rate each family would have paid for the district's system last year, making it fair for all.
That rate means 18 children would need to ride to break even. So far, 22 have signed up.
PTA fundraiser
The extra $800 will go to the PTA, and any additional riders — the bus can seat 45 — will pump even more money into the organization's treasury.
"Everyone feels like they're getting what they paid for," Dvorske said, thankful that proceeds from the transportation service could help bolster classroom supplies, furnishings and events. "If the PTA makes $1,000, then maybe I don't have to sell as many pastries to my colleagues at work."
Jared Comfort, principal at Schwegler, is looking forward to the limited resumption of bus service. The first ride is contracted to arrive Thursday morning, and then continue each day through the end of the academic year.
A year ago, Schwegler had four full-size buses coming and going; so far this year there have been none, given the district's cuts.
"It's nice to see a group of parents who are resourceful enough to do this," he said. "In bigger cities, you don't often see this type of relationship-building and trying to reach out to neighbors and get a community solution to common problems.
"This is great."
Copyright 2018 The Lawrence Journal-World. All rights reserved. This material may not be published, broadcast, rewritten or redistributed. We strive to uphold our values for every story published.