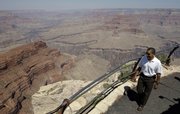 Grand Canyon N.P., Ariz. — President Barack Obama is hardly the consummate Western outdoorsman.
The Marlboro Man he's not.
He's spent his adult life in big cities — New York, Chicago and, now, Washington. Basketball, golf and bodysurfing are how this jock rolls. Indoor daily gym workouts are the norm. Hunting, climbing, rafting — not so much.
Yet there he was on a summer weekend, enthusiastically soaking in America's vast wilderness. He toured Yellowstone National Park, checking out Old Faithful. He strolled trails along the Grand Canyon's rim. He cast a fly while fishing in a Montana river and spent a night in a mountainside lodge.
"Pretty nice, eh," Obama said Sunday as the family took in the breathtaking view from the Grand Canyon's Hopi Point under a magnificent blue sky and overlooking a 5,000-foot drop to the Colorado River. "Last time I was here was when I was 11 years old." Asked by a ranger if it looked the same, he said, "It does!"
A day earlier at Yellowstone, the first family watched the world's most famous geyser erupt. "Oh, that's pretty good. Cool! Look at that. That's a geyser there," Obama said. His entourage also traipsed across wooden walkways in the steamy Black Sand Basin, a brilliant-hued hydrothermal spot in the park dotted with hot springs, geysers, mudpots and fumaroles.
Family trip
With the wonders of his country at his disposal, Obama did things that might seem a little out of his comfort zone. It's safe to say that this Hawaiian-born president has spent more time on beaches and in cities than he has in the mountains of the West.
But this is also a guy who clearly has a zest for recreation and a curiosity about the diverse nation he governs. He seems game for trying just about any sport or activity. And he appears intent on broadening his kids' interests and, perhaps, his own.
So it was of little wonder then that he brought his wife, Michelle, and daughters Malia and Sasha, as well as other relatives, including half-sister Maya Soetoro-Ng and her young family, on a trip that was part family vacation, part policy promotion.
He held a couple of town-hall-style events to plug his efforts to overhaul health care. In Belgrade, Mont., he opened with this comment: "Here in Montana you've got bears and moose and elk. In Washington, you have mostly bull. So this is a nice change of pace!"
Obama chuckled at the line. But he clearly was at his happiest when he shed his typical dark business suit for casual wear — a light jacket for Yellowstone, a golf shirt for the Grand Canyon and hiking sneakers for both — and some quality time with his family.
Parks a priority
The president was in jovial spirits from the moment he bounded up the Air Force One stairs at the start of his trip, mock-racing his youngest daughter to the top. He appeared to relish his role as a father as he treated the girls to ice cream at a Yellowstone general store and talked with them about different kinds of rocks above the Grand Canyon.
He showed them sites he saw as a child when he visited national parks, including Yellowstone and the Grand Canyon, with his mother, grandmother and half-sister. At both parks, he peppered rangers with questions and seemed engrossed in the answers.
Obama, aides say, had pressed them for a while to schedule a parks trip. The last Democratic president, Bill Clinton, often vacationed in the West; his pollster used surveys to decide the best place for him to spend his leisure time, politically.
For decades, politicians, and particularly Democrats, have staged events — think Massachusetts Sen. John Kerry in duck-hunting camouflage in 2004 — to show the public they're on the side of outdoorsmen, who tend to be more conservative because of support for gun rights and wariness of the federal government's reach.
Obama refrained from such moments during the campaign. He was known to shun attempts by his advisers to make him do things that appeared overtly political and were intended to win over specific constituencies such as hunters and anglers.
Copyright 2018 The Associated Press. All rights reserved. This material may not be published, broadcast, rewritten or redistributed. We strive to uphold our values for every story published.