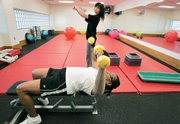 No longer does weightlifting have to be avoided by women who have undergone treatment for breast cancer. Far from potentially causing harm, as women have been warned, a strength-building regimen appears to reduce the severity of lymphedema, a sometimes debilitating result of breast cancer surgery.
Because surgery to remove breast cancer often includes the removal of lymph nodes and vessels, the lymphatic fluid normally channeled through this system can get backed up, causing swelling in the affected arm and breast area. The condition can range from mild to severe — even moving the arm can become difficult — and can begin during treatment or even years afterward.
A study reported Wednesday in The New England Journal of Medicine gives new hope for managing lymphedema. In it, researchers at the University of Pennsylvania and elsewhere assigned 141 breast cancer survivors to participate in either a twice-weekly weight-training program or to simply be a part of a control group.
The exercising women were more likely to have a reduction in both the number of lymphedema symptoms and the severity of those symptoms. They were also more likely to have increases in upper- and lower-body strength.
Copyright 2018 The Lawrence Journal-World. All rights reserved. This material may not be published, broadcast, rewritten or redistributed. We strive to uphold our values for every story published.